Expert Options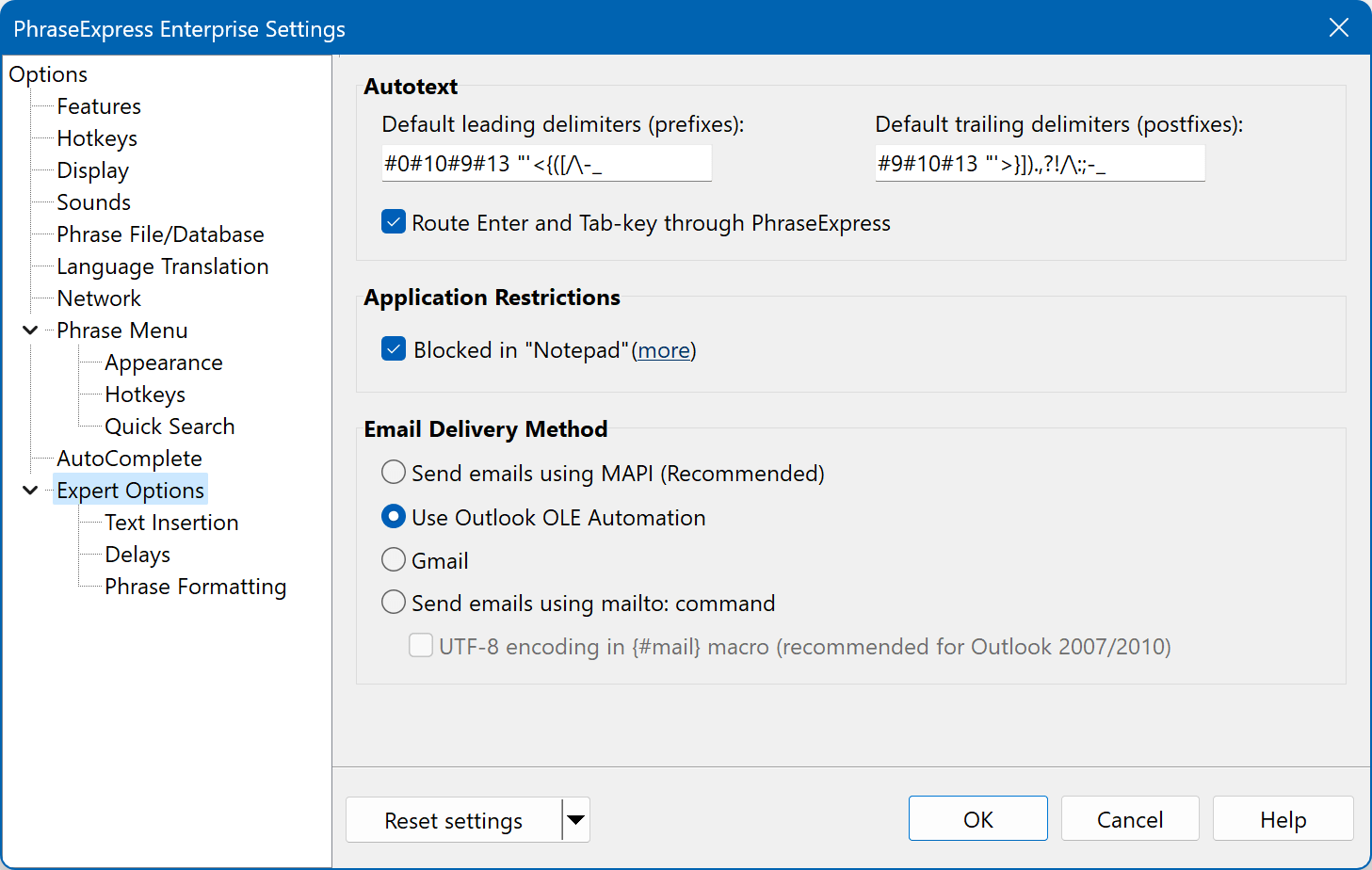 Expert options are reserved for advanced users who need to adapt PhraseExpress to special use scenarios based on our instructions.
We do not provide technical support in the event that you change the expert options. Before contacting support, please revert the expert options to default values.
Autotext
Default leading- and trailing delimiter are the standard delimiters, allowing PhraseExpress to recognize the beginning and end of an Autotext. #0 means any character, #9 means the TAB-key, #13 means the ENTER-key. If you use #0 for both delimiters, then input would be recognized at any position within a word.
The option Route ENTER and TAB through PhraseExpress allows the program to extend Autotexts to their phrases if they are confirmed by ENTER before they are sent to the target application. You can disable this behavior, as it can cause problems in certain programs (e.g. Games) where ENTER may be blocked or double-executed.
Global application restriction
The detection of Autotext, hotkeys and the AutoSuggest feature can be restricted on a global level. This configuration is stored in the local configuration file of the user's computer and overrides any phrase program restriction. Global program restrictions are not shared with other users sharing a common phrase file/database.
E-Mail Delivery Method
Experiment with the email delivery method setting if you experience difficulties with the macro function.
Enable UTF-8 character encoding if your email client uses such encoding.
If MAPI fails, please search your PC for the file fixmapi.exe and launch it with administrative privileges. If you use Lotus Notes, you may need to manually enable MAPI support in Lotus Notes.