PhraseExpress for Mac
PhraseExpress for Mac is a powerful Text Expander and Text Template Manager:
Check out what's new in Version 4!
Benefits
Life-time license – No subscription and no recurring charges.
No forced use of cloud services – You can keep your snippets on your own computers.
Syncs with Windows and iPhone/iPad – Save time on your desktop PC and your mobile devices.
No search hotkey required – Suggestions show up as-you-type.
Notable Features
Multi-level phrase folders instead of only flat groups
Reusable autotexts to create multiple choice phrases (no "conflicting autotext").
Unparalleled macro functions to perform powerful tasks (multiple choice phrases, input forms, linking phrases, math calculations, string operations, conditional statements, loops, etc.).
Advanced autotext settings which can be configured individually for each phrase.
Text snippets import from TextExpander incl. a selection of macro functions.
SmartComplete feature saves you from memorizing abbreviations.
Freeware App
The PhraseExpress for Mac Freeware version is free for personal use and can store up to 10 phrases.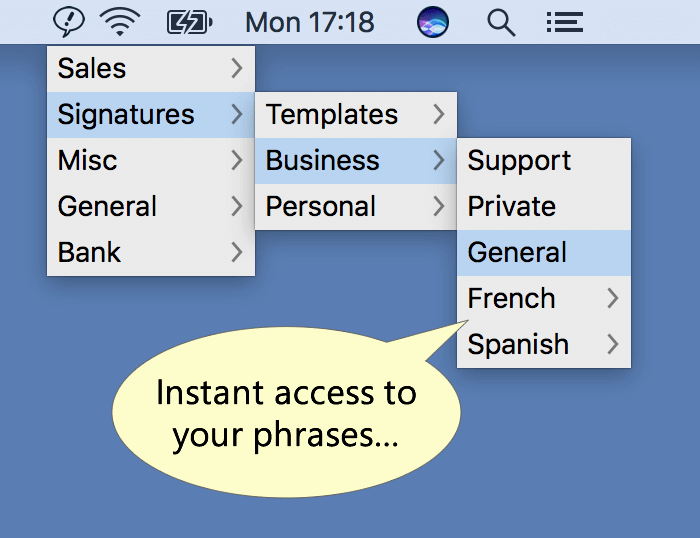 Access your Snippets with Ease
Phrases are available at your finger tips.
Snippets can be organized by languages including sub-folders for departments, products, purposes.
Hotkeys provide instant access to specific phrase folders.
Powerful Autotext Options
PhraseExpress allows you to assign the same autotext shortcut to multiple snippets.
Ambiguous shortcuts trigger a phrase selection menu next to the cursor.
You only need to memorize a single autotext to get multiple snippet options.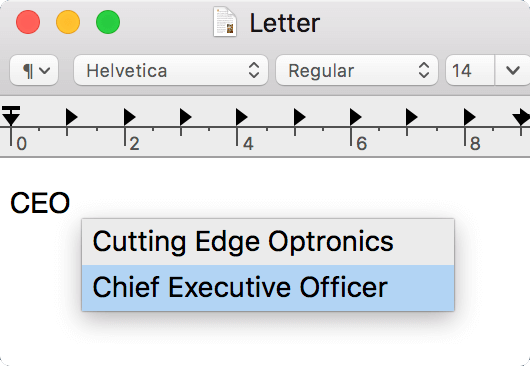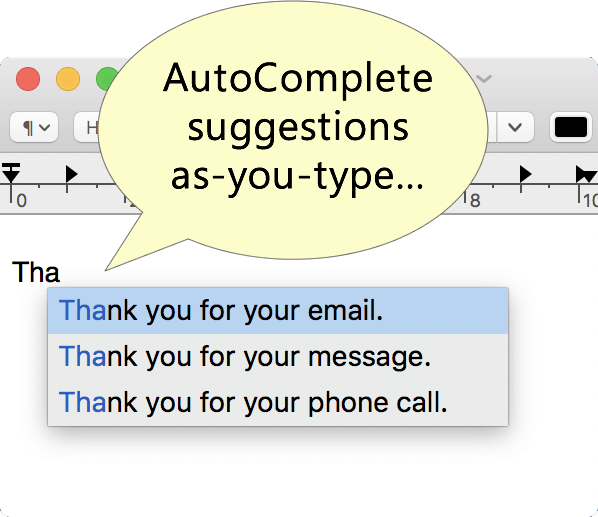 No more Autotext memorization
Tired of ;xdly and ;rjcd?
Instead typing cryptic abbreviations, just type the beginning of the desired phrase.
A smart menu narrows down matching items as you type.
Advanced Fill-in Feature
PhraseExpress offers so much more than just inserting user input into a snippet:
The whole snippets adapts to the gender ("he/she", "her/his") entered in the form.
Checkmarked items are enumerated including conjunction "and".
Calculations have been made based on the user input.
The form input can be stored and re-used for other subsequent snippets.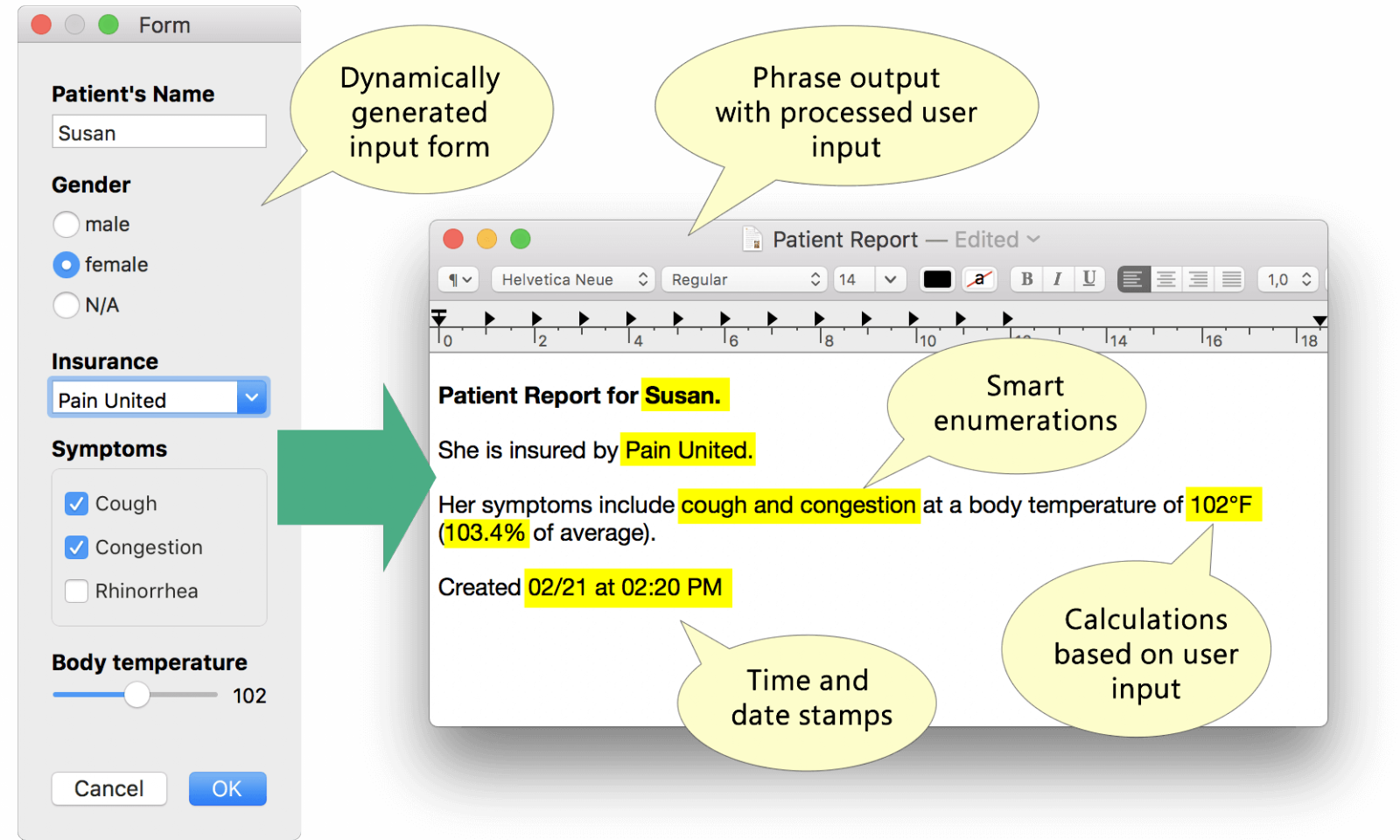 Dynamic Snippet Contents
Powerful macro functions can insert user input, clipboard contents, external file contents and date/time stamps into snippets. Conditional statements, loops, variables, math and string operations allow you to create powerful automations.
The real power comes by nestingmacro functions: User input can feed conditional statements, that branch into can link a variety of snippets, randomize phrases, define variables, perform calculations, adapt the gender to the recipient, trigger phrases depending on date, create counters, e.g. For auto-incrementing invoice numbers, etc.
Multi-Platform Text Expander
Available for Mac, Windows and iOS
PhraseExpress for Mac can sync phrases with the Windows version and with iPhone/iPad.
All versions have been created with native development tools of each platform, allowing for snappy apps which utilize the best features of each operating system.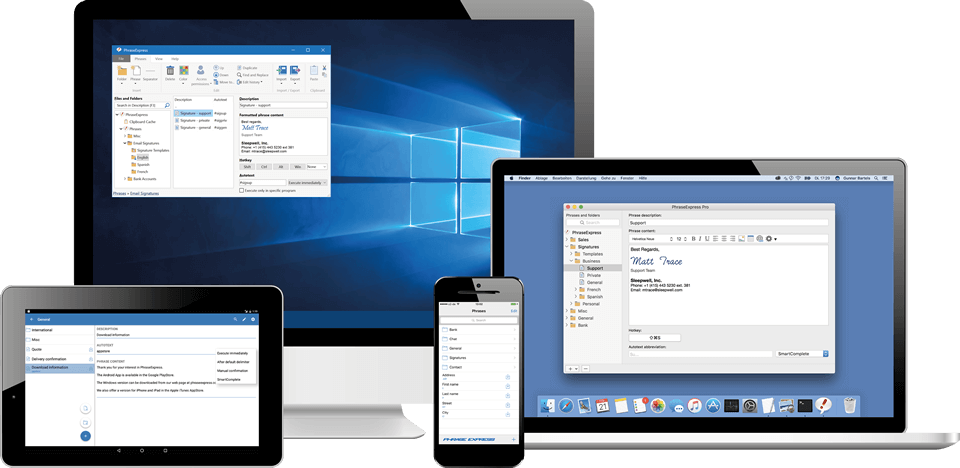 Share phrases with the Team
Windows and Mac users can share common phrases in a local network.
Multiple users can simultaneously edit phrases in the common database.
The professional client-/server architecture prevents write collisions and version conflicts.
Access can be restricted to specific users or workgroups, allowing users to configure personal and shared phrases.