Features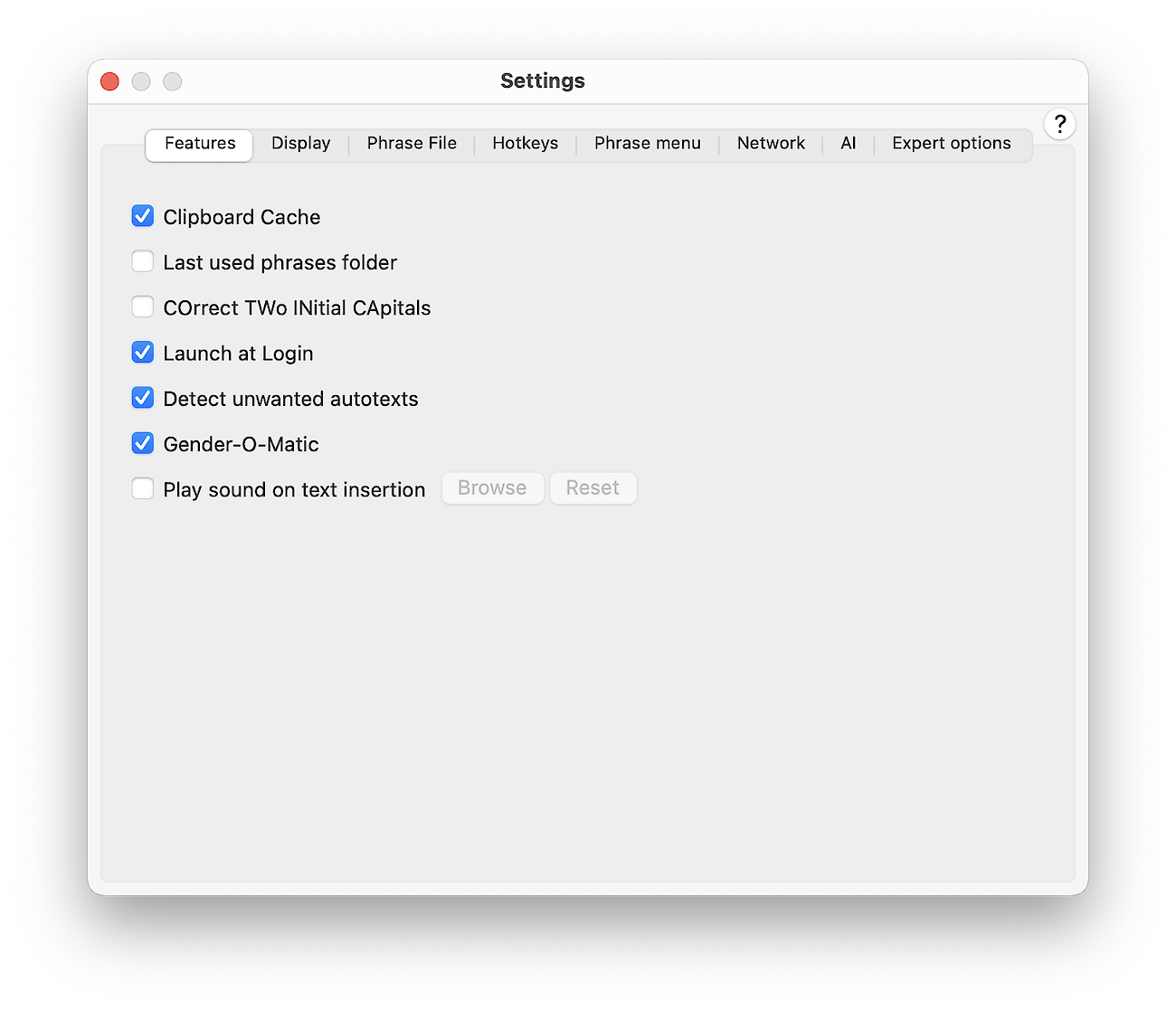 Check-mark "Show in Dock" if you wish to have quick access to PhraseExpress in the macOS dock.
If "Launch at Login" is enabled, PhraseExpress is ready to assist you right after booting your Mac. We recommend to keep this enabled.
The option "Automatically detect unwanted autotexts" suppresses automatic text replacements by PhraseExpress if you undo such beforehand: PhraseExpress detects if you undo delete an unwanted text replacement with backspaces and will not recognize the same autotext input the very next time you enter it again.
Click "Show all confirmation dialogs" to re-enable all the dialogs you may have suppressed with "do not show again".
Update Check
PhraseExpress can optionally check for updates and major new versions:
Setting
Description

No update check

Disables the automatic update check.

This setting is not recommended as you will not be informed about newer versions and important bug fixes! We provide technical support for the latest software version only.

Important updates

You will be informed about important updates that may fix critical bugs.

Important updates are released in the rare event that they are absolutely required to prevent data loss or malfunction.

This setting is recommended for companies with a conservative update policy.

Minor updates

Please choose this setting if you always want to have the very latest version, including minor improvements

Such minor updates are not essentially necessary but may include nice to have new features and may fix minor bugs that are not critical.

Experimental updates

Only choose this setting if you expect a customization provided by us or if we instructed you to configure this option for technical support purposes.

Normal users should not activate this option as you may get an update that may not work in your environment or that may be erroneous.

Experimental updates have no use or benefit for normal users.

Check for beta versions

This extra setting informs you about the availability of beta versions.
You also get notifications about important updates, even if you have selected the setting minor updates.
The online update check is disabled if PhraseExpress is connected to a SQL server to prevent software version mix-up in a network environment. Use the PhraseExpress SQL Client Manager to check for updates in this case.
Language translation
The text translation feature is powered by the external online translation service "DeepL".
To use the DeepL translation service:
Register an account at DeepL.com. You would need the "DeepL API Free or Pro account":


You will receive a personal "DeepL API key" (example:

43943f3fd-r46f-0kqeb-55c-6lk3l2s183ab8

).
Copy & paste the API key into PhraseExpress.
Keep your DeepL API key at a safe place. PhraseExpress stores the key with encryption and you cannot restore it from PhraseExpress.
Pricing and plans may change. We are not affiliated with DeepL. Please contact DeepL for DeepL support.
The translation algorithm seem to require textual context and seems to be better in translating sentences than in translating individual terms or words.
Phrases are transmitted over the internet with SSL encryption to the "DeepL" translation service.