Adding a macro
To add a macro function to a phrase:
Click in the phrase text, where you wish to add a macro.
Select the desired macro function from the macro menu:


Configure the parameters in the macro configuration dialog.
To edit an existing macro function, double-click the macro placeholder token.
Macro configuration dialog
A typical macro configuration dialog consists of:
Macro name
The macro name is the text label of the macro token/placeholder: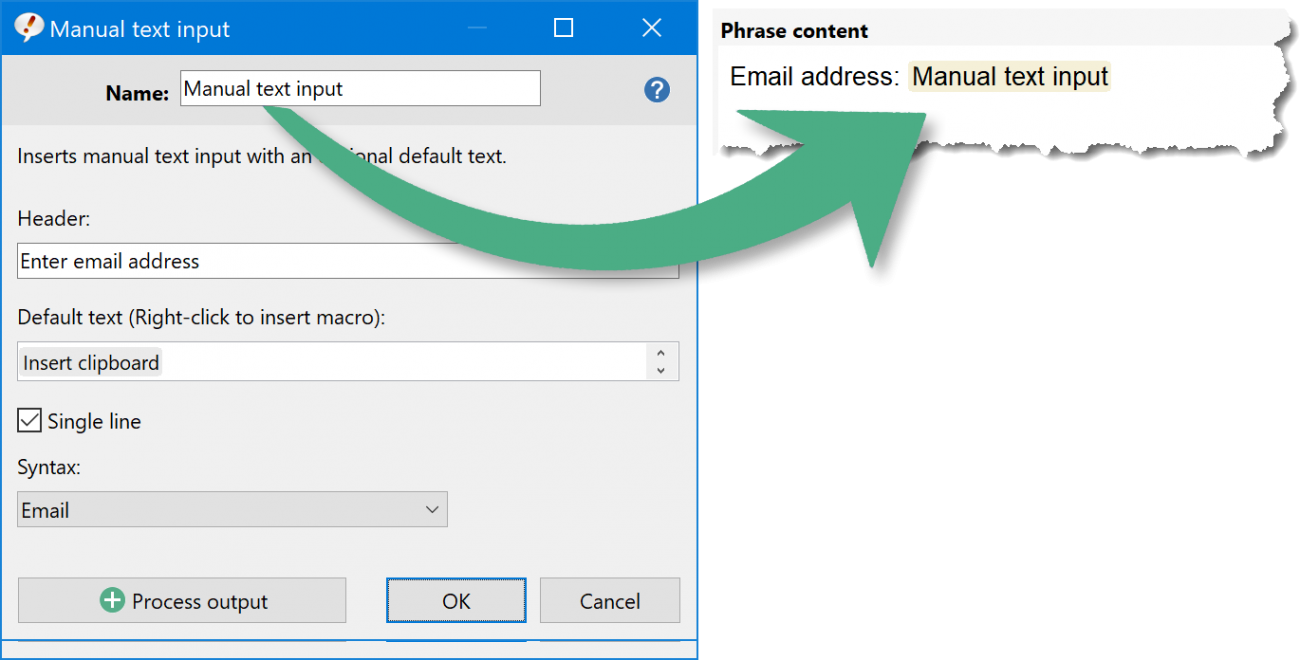 Choose a short and descriptive name.
Example: For a macro, that outputs a the current date plus 14 days for a payment reminder phrase, you may want to name it "Date+14d" or "PaymentReminderDate".
Without defining a name, the underlying macro code is shown in the phrase instead of the beautiful macro token:

The code view is interesting for expert users only, who like taking a peek under the hood.
You can toggle between code vs token view at any time by defining a macro name or removing it.
Macro parameters
Most macro functions have parameters and options which are explained in this documentation.
The Clou: Macro parameters may contain macro functions themselves!
Example applications:
Embed a phrase into another phrase based on a specific date or time, or the value of a Excel spreadsheet cell content, a user input, a calculation, etc.
Calculate a math expression consisting of a temporary variable, CSV file value and/or a Windows environment variable content, etc.
Pre-fill an user input prompt with the current date.
To achieve the latter example:
Create a phrase and click where you wish to add the macro function.
Select macro "
".
Click the icon in the input field "
".
Select macro function "

Time/Date

" and configure that macro in its own macro configuration dialog.
By clicking OK , the date/time macro token is inserted in the input field " ".
By clicking OK in the " " macro dialog, the entire nested macro function is inserted into the phrase.
Additional processing
The output of a macro can be processed by a queue of addditional macro functions: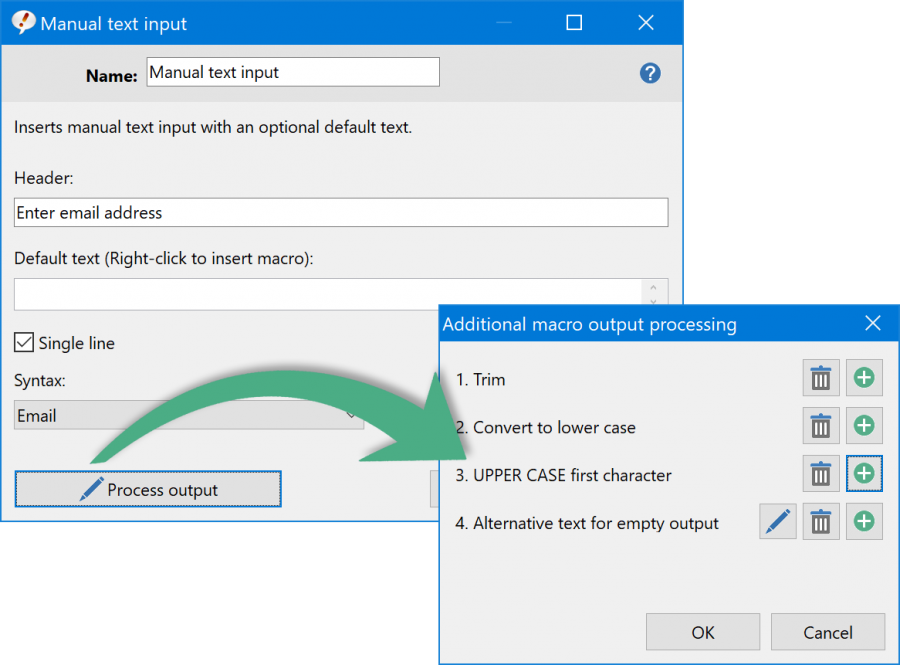 To add processing steps, click the button "Additional processing" at the bottom of a macro input dialog and add processing steps as required. All processing steps will be daisy chained and executed from top to bottom.
Example: To create a prompt for a text input which is then changed to upper case and finally placed into the clipboard:
Add a "
" macro.
In that macro input dialog, click the button "
" at the bottom.
In the subsequent window, click "
" and select " " from the list of actions.
Add a second processing step and select "
".
Confirm all dialogs with OK
For experienced PhraseExpress users: Each processing step in the processing queue encloses the current macro onion-like.