New features in PhraseExpress v5 for Mac
New Trigger System
The new trigger system allows you to trigger phrase execution at specified times, when certain program windows appear or if the contents of the clipboard matches a regular expression (RegEx).
For example, PhraseExpress can now offer various actions if any e-mail address, URL, IP address, IBAN, etc. is typed or pasted into the clipboard.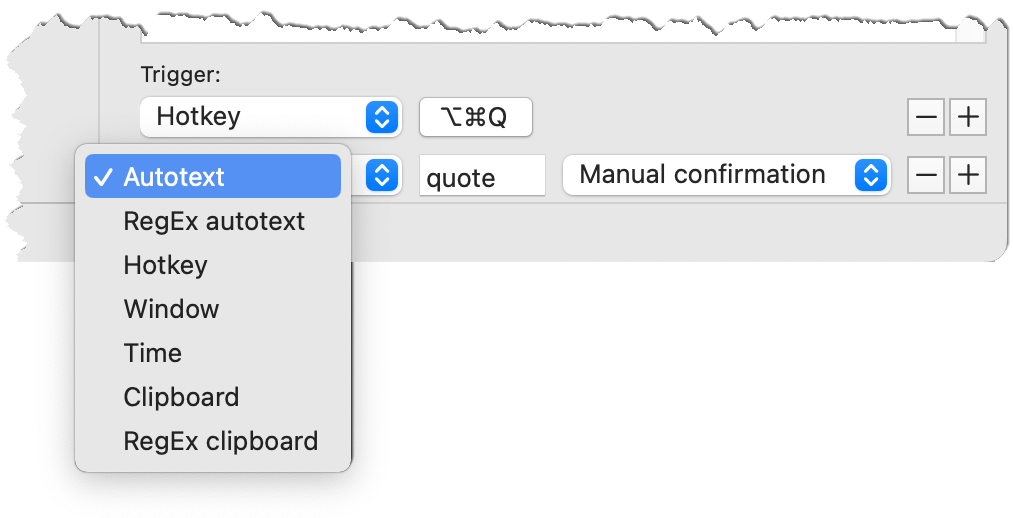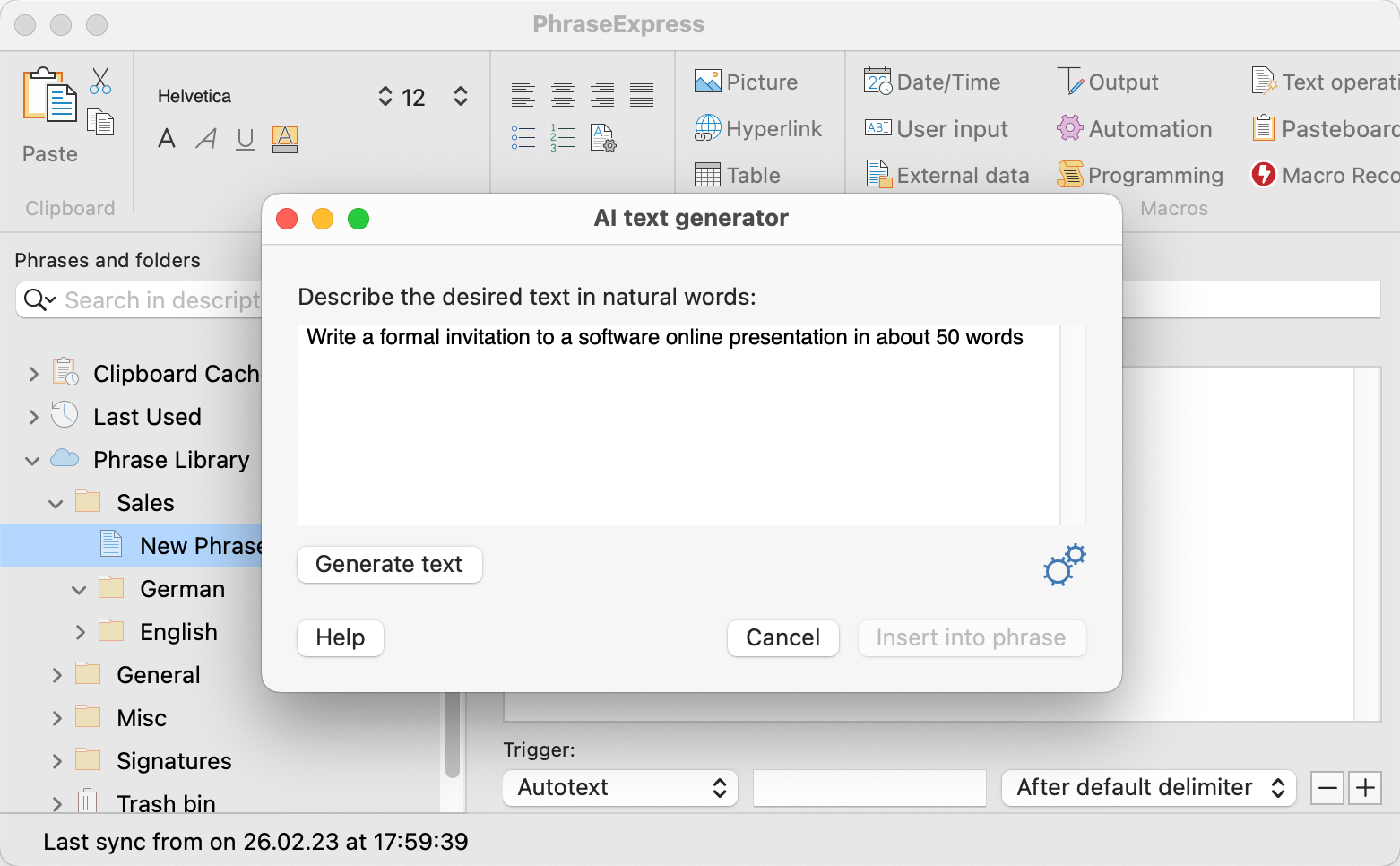 OpenAI and ChatGPT Integration
Generate phrases with AI
Ran out of ideas? Use OpenAI within PhraseExpress to generate new phrases in any language.
You only pay once, store the text in PhraseExpress for infinite and instant re-use.
Rewrite your Phrases with AI Power
Use OpenAI to rewrite your existing phrases in different styles (formal/informal) or to correct grammar in multiple languages.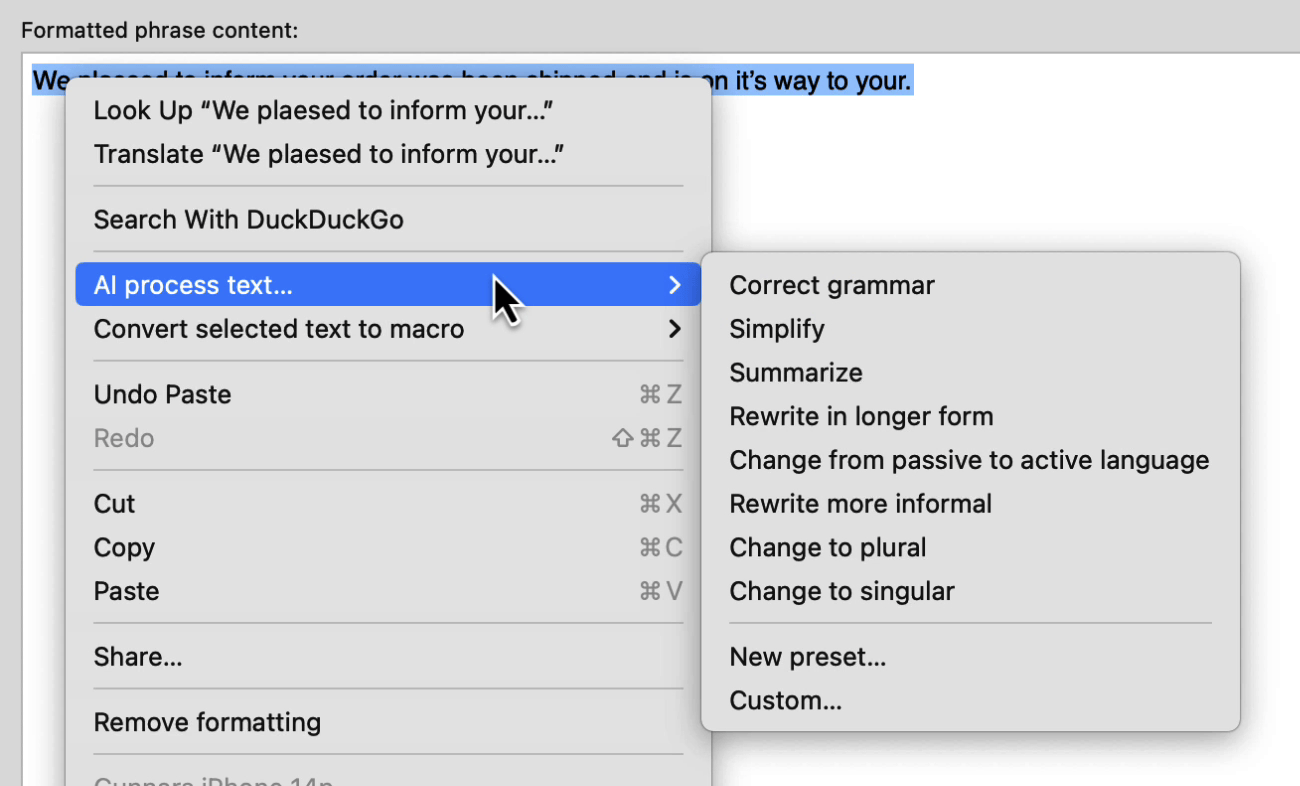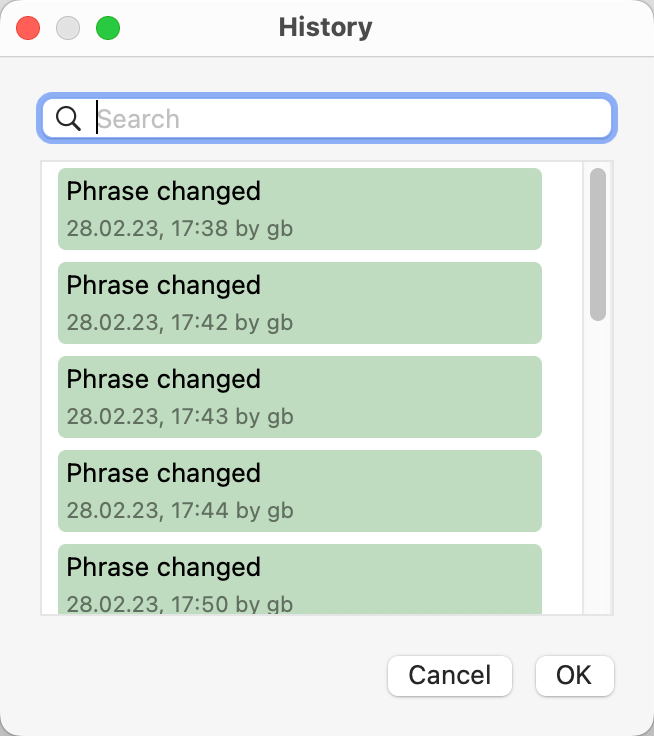 Editing History
PhraseExpress now retains the editing history of each phrase.
Previous versions can be reviewed with real-time preview, and restored, if desired.
"Text-to-Input Form" Converter
PhraseExpress makes using macro functions and creating input forms even easier – Just select any text in your phrase and PhraseExpress suggests suitable macro options.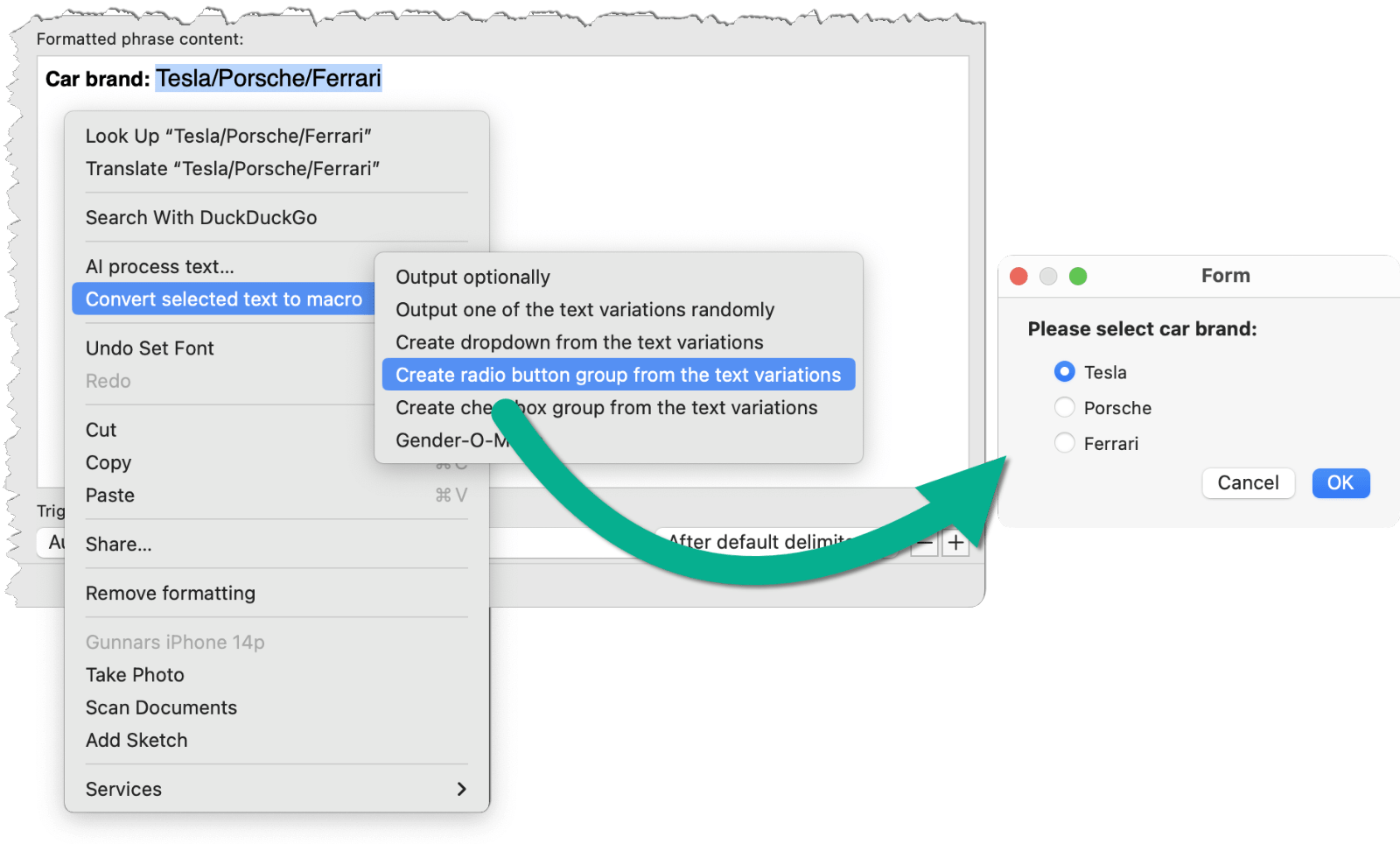 Gender-O-Matic
No more bulky "he/she" or "his/her" constructs. PhraseExpress can optionally replace them into dynamic placeholders during the composing of a phrase.
When executing the phrase, PhraseExpress inserts the phrase in the desired gender variant.
Additional New Features
Unified Mac/iOS/Windows phrase file format.
New phrase sync system with collision prevention.
Horizontal checkbox and radio button groups.
Use count of all users combined.
Separate sorting of each folder now also by use count.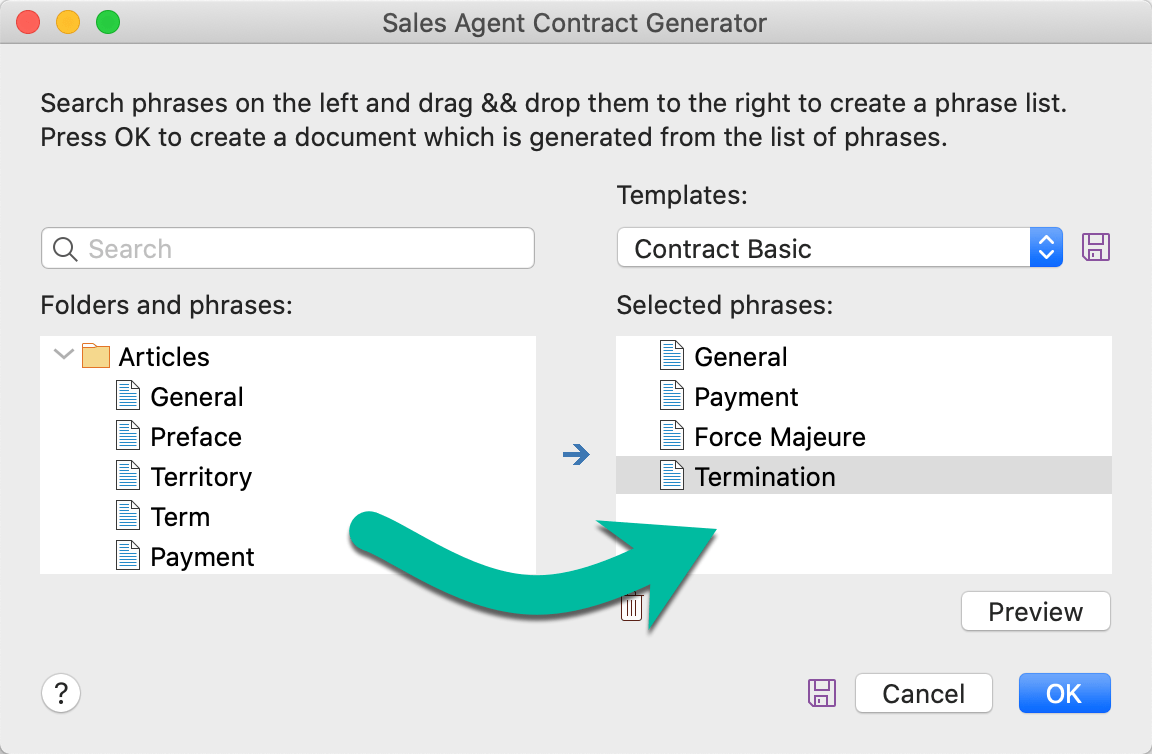 Document Generator
The built-in document generator creates complete documents with a few mouse clicks.
Applications
Lawyers create custom contracts in no time: Select the terms to be included, press OK and the customized contract will be saved as a Microsoft Word file on your desktop.
Technical writers can re-use common parts of a documentation to quickly create a variation of existing user manuals.
Medical doctors can select applicable items from the list of common procedures to create a customized surgery report.
Clipboard Manager
The Clipboard Manager provides instant access to earlier contents of your clipboard.
Clipboard items you wish to keep can be moved into your permanent snippet library easily.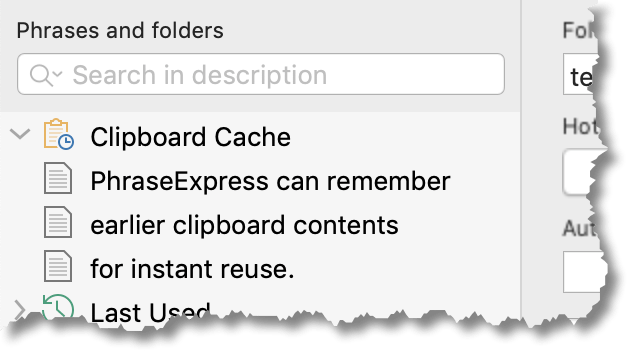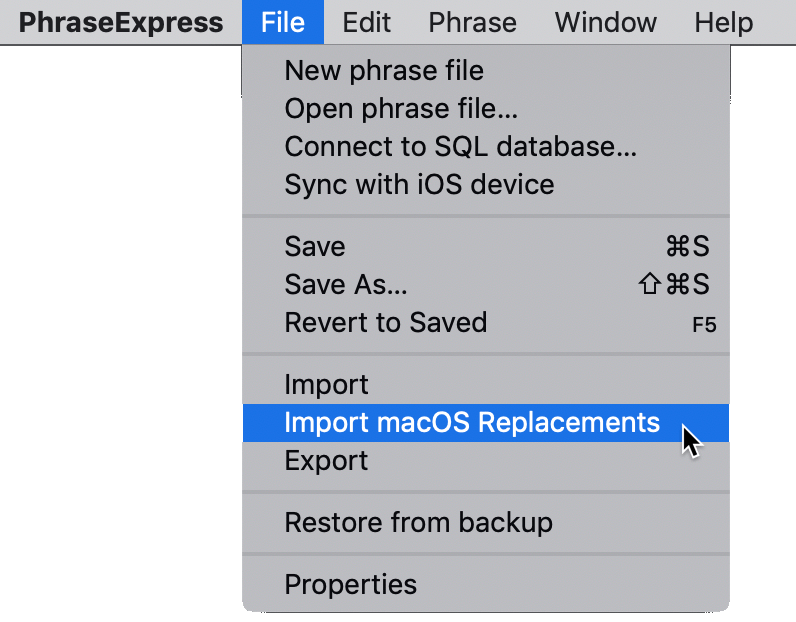 macOS Autotext Import
MacOS system autotexts can now be imported for use with PhraseExpress with advanced features:
Multi-line texts
Text formatting and bitmaps
Synchronization with Windows & iPhone/iPad
Powerful macro functions
No More Unwanted Text Replacements!
Individual autotext shortcuts can be configured to be active in specific programs to prevent unwanted text replacements.
For example, legal phrases can be restricted to your text editor while bank account information only show up when managing your bank accounts in the web browser.
This also allows you to use the same Autotext text abbreviation to insert different text templates depending on the target program.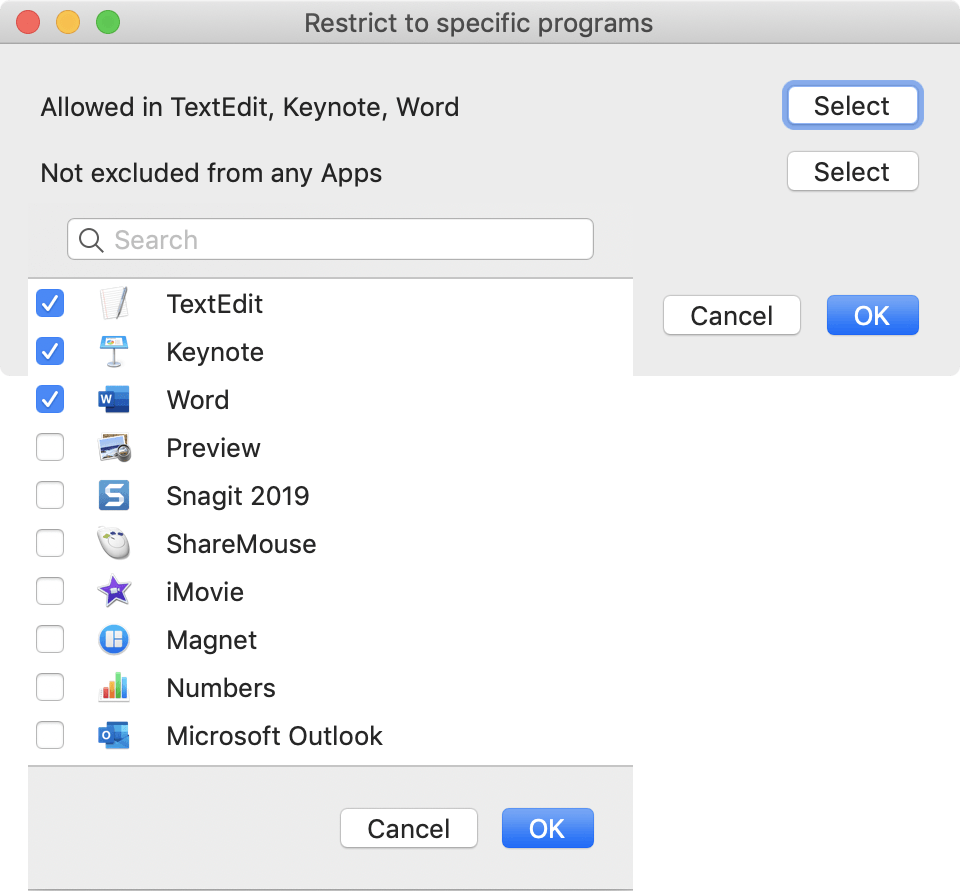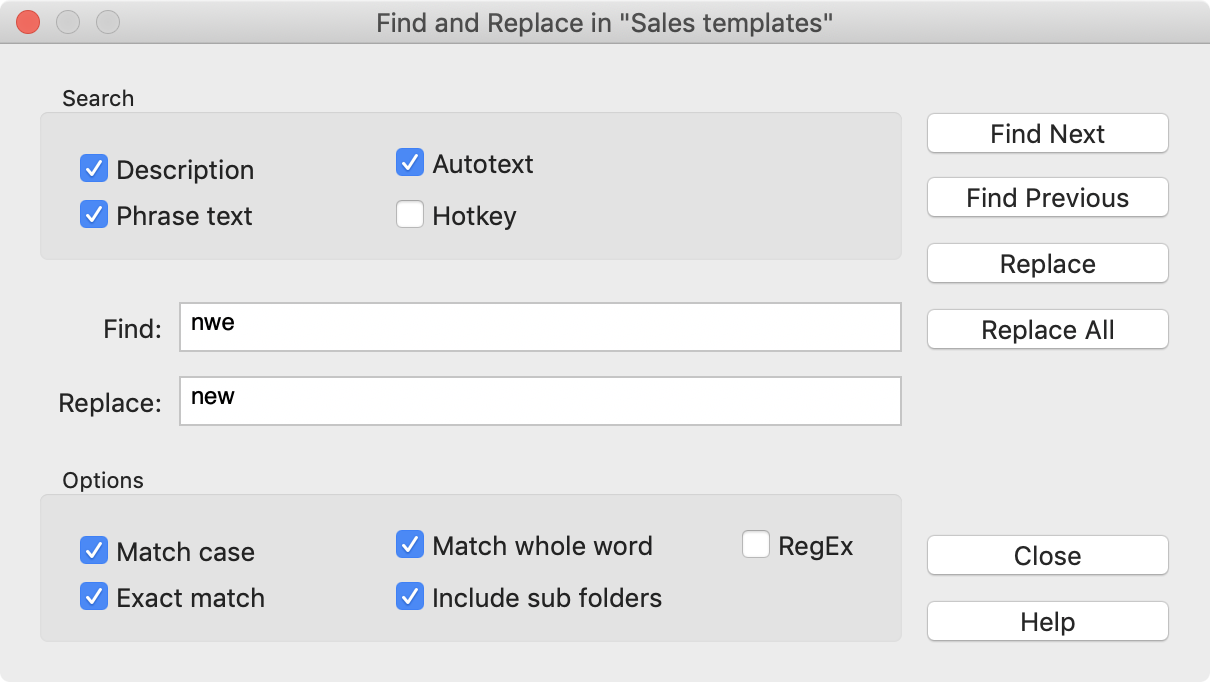 Search & Replace
PhraseExpress for Mac allows you to search any text in phrase descriptions, phrase contents or autotext and replace it with another text of your choice. Power users can even perform complex RegEx queries.
CSV Import
Import CSV files line-by-line for use as phrases in PhraseExpress.
Each line of the CSV file is converted into a phrase that can be triggered by autotext or hotkey.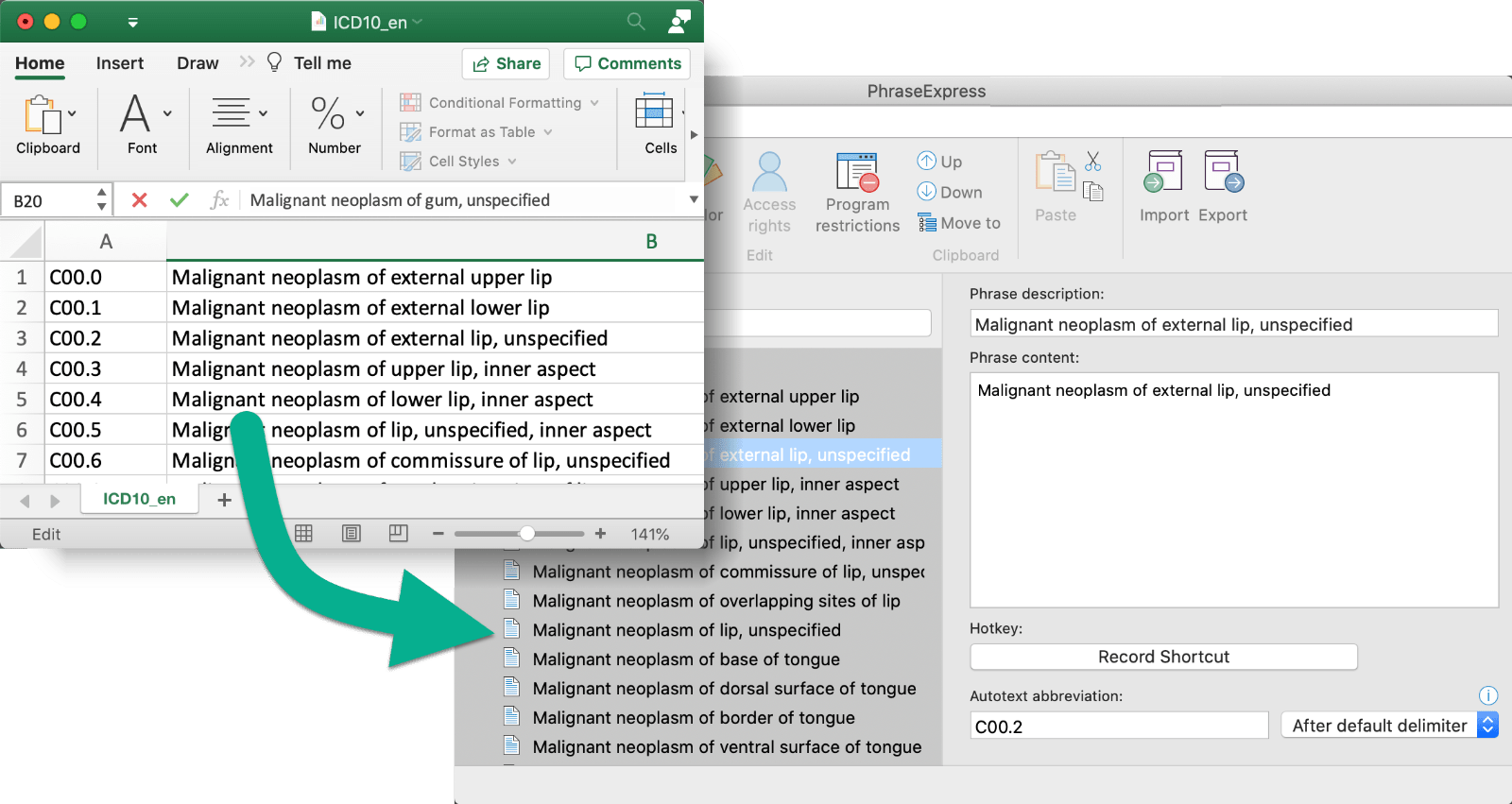 Resizable Bitmaps
Bitmaps can now be resized in phrases within PhraseExpress. Where else do you get this magic?
Additional new features in v4
PhraseExpress now merges changes of the phrase file made by other Mac/iOS devices instead of loading the entire updated file.
Global variables (introduced in PhraseExpress for Mac v3) are converted into regular phrases (important info).

Access to last used phrases provided in a dedicated phrase folder. This comes in handy if you need to cycle through recently usely phrases.
New features in PhraseExpress v3 for Mac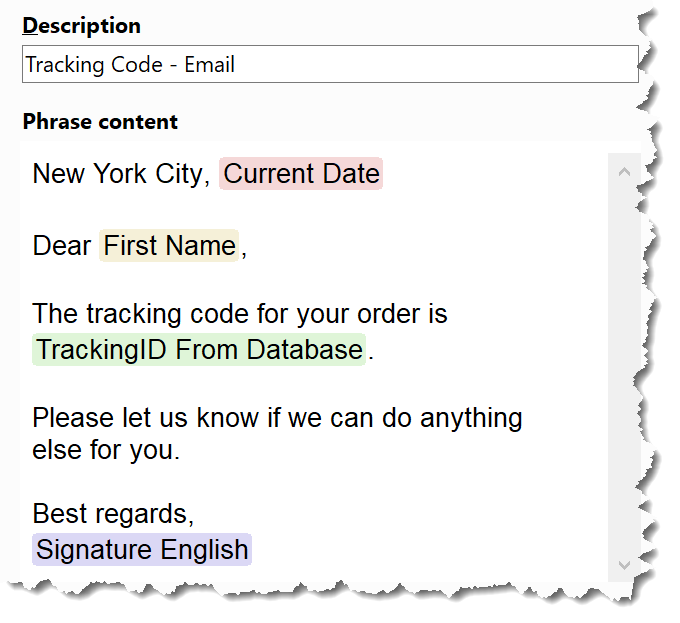 New lightweight macro syntax
You can now create macros without cryptic code.
Slick macro tokens instead of clunky macro code.
Better readability of your phrases.
Macros can be moved easily with drag & drop or copy & paste.
No programming skills required to create powerful macro functions.
Forms adapt as-you-type
Fill-in forms now dynamically display/hide input sections based on your input.
Benefits
Slick forms, that show only the fill-ins you actually need.
Intuitive, dialog assisted data entry.
No programming or quirky "if-then-else" formulas required.
Drop-dead simple to create. Promised!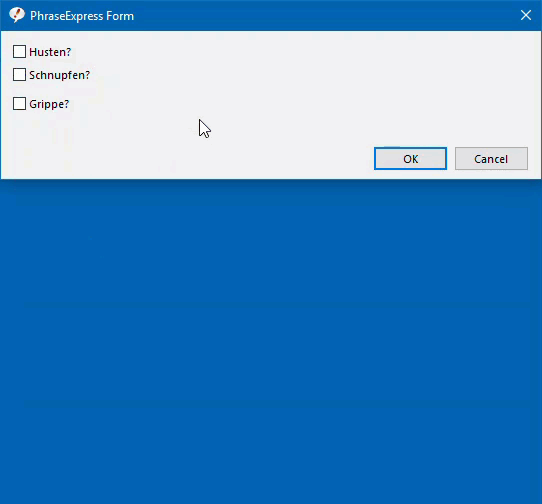 Macro Recorder support
PhraseExpress v3 can integrate the new Windows/Mac automation software "Macro Recorder" to playback repetitive tasks.
Automations can be triggered by hotkey or autotext.
Macro Recorder macros can be organized in the phrase tree structure.
Macros can be shared with other users.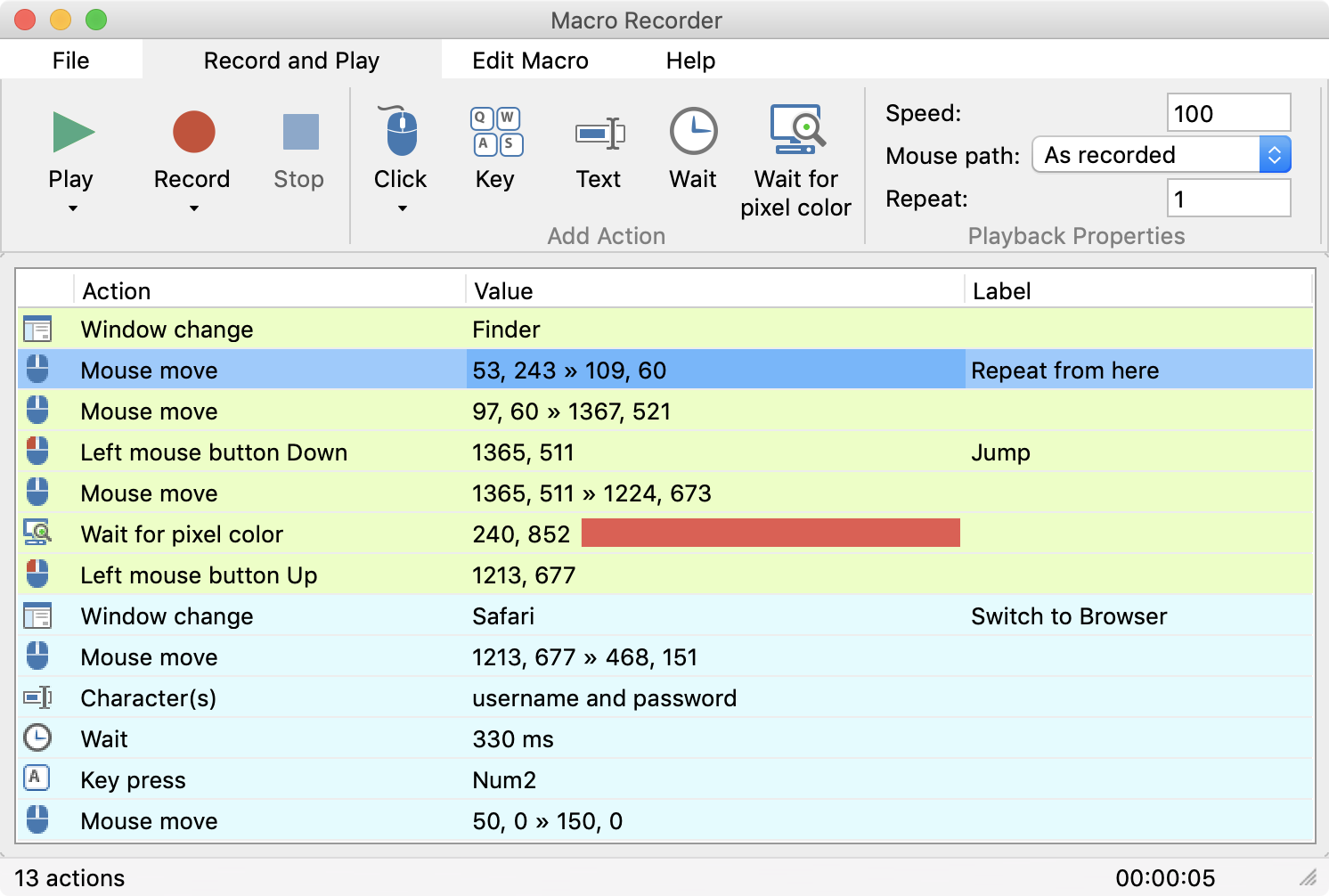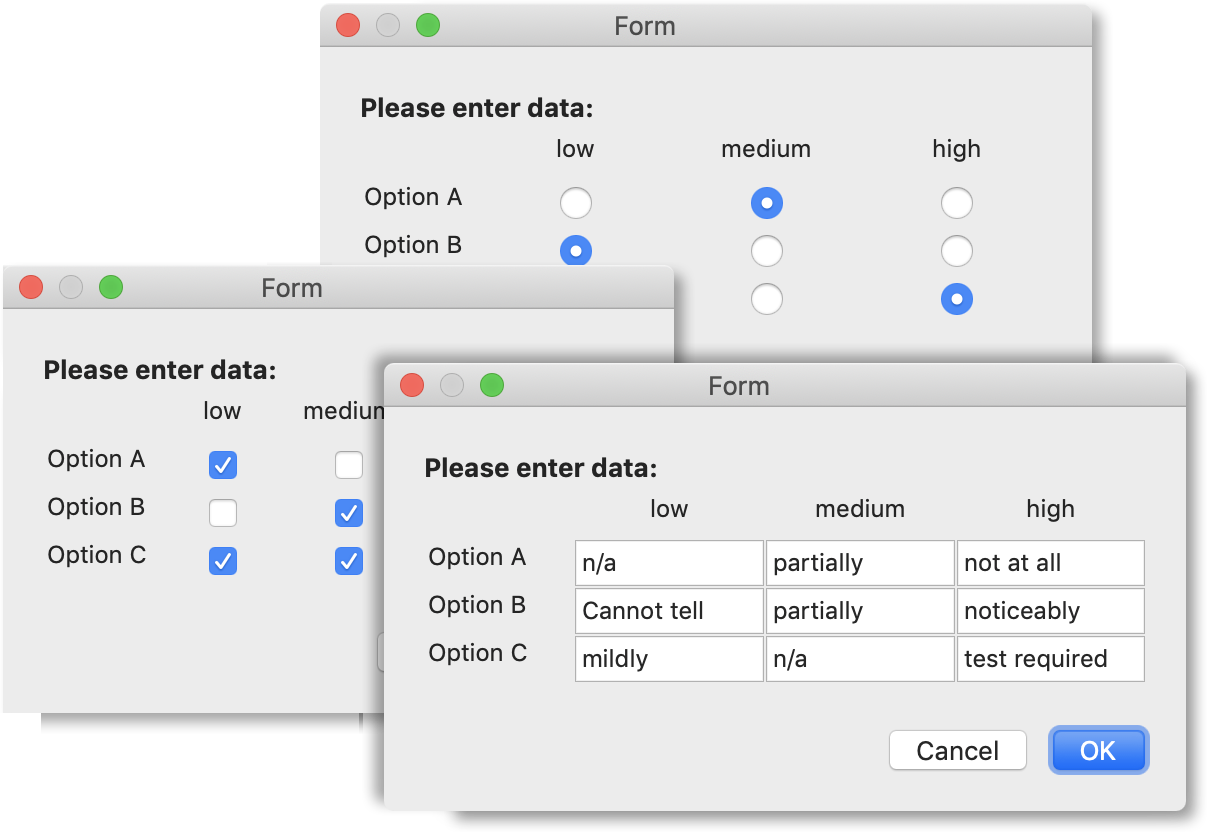 Tabular Forms
Forms can now include tabular input with radio buttons, checkboxes or text input.
AI-based Language Translation
PhraseExpress supports the AI-based paid service Deepl to translate any text into English, German, French, Italian or Polish language.
Date Calculations
PhraseExpress can now calculate the number of days, weeks, months, years or work days between two provided dates.