Outlook Integration
The Outlook Add-In provides a special integration with Microsoft® Outlook® to enable exciting new features:
Auto-complete Salutation
PhraseExpress can autocomplete the name when replying to email: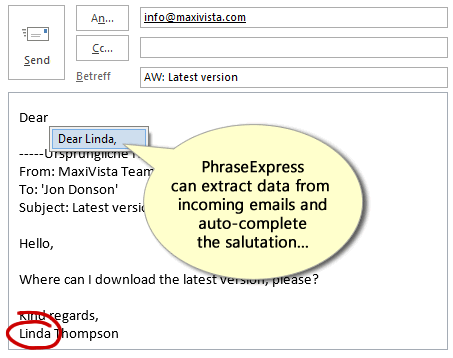 Context-Aware boilerplate templates
No more searching for the right phrase. PhraseExpress can analyze the email subject and body to filter on-topics phrases: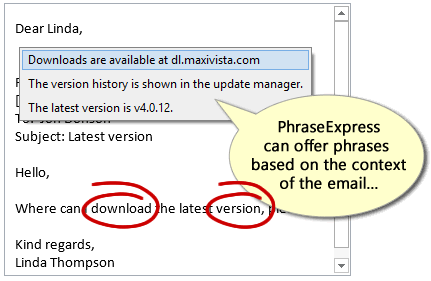 Benefits
Answer emails blazingly fast with a pre-filled personal greeting ("Dear Joanne").
No more embarrassing situations by misspelled names.
Personal email intros that are on topic ("Thank you for your interest in [product name is dynamically added]".
High accuracy by matching the first name against a large built-in database.
Named based gender detection for formal correspondence ("Mr./Ms.".)
Works with German, too ("Sehr geehrter Herr Meier" / "Sehr geehrte Frau Kuhn")
Save time by phrase suggestions that match to the actual email context.
This Outlook COM Add-In requires a local Microsoft Outlook installation.