PhraseExpress Shop
Select the desired edition to enjoy powerful extra features! Click the feature items for more info…
Happyness Guarantee
We don't want your money first!
Try everything with the free demo and buy it if you like what you see.
Save Money
Enjoy attractive volume discounts or get an additional discount by choosing a long-term maintenance agreement.
Instant Delivery
We email your license right after payment. No need to install new software. You can continue with your current installation.
Secure Purchase
Security is our top priority.
Your contractual partner is the leading ecommerce vendor Digital River.
Licensing information
Licenses are valid lifetime and do not expire. The license is no subscription and there are no recurring fees. It's a single one-time payment.
The maintenance additionally provides updates, upgrades and even major new versions. After maintenance expiration you can continue to use your license life-time or renew maintenance.
Each user requires a separate license. The license is tied to the Windows user name (more info). If using a Mac, the license is tied to the Apple account name.
If using a (SQL) server, each user connected to the server requires a separate license (more info). The PhraseExpress Server and PhraseExpress (SQL) Client Manager is included in the license purchase.
If running PhraseExpress from a USB thumb drive, each USB thumb drive requires a separate license.
PhraseExpress requires an online connection for the short time of the license authorization (more info). An offline registration option is available for 10+ Pro/Enterprise Edition licenses on request.
The license can be used for either Windows or Apple Mac. The Mac editions have different feature sets than shown here. The iPhone App mobile Apps for is not included.
German/Austrian/Swiss customers, please visit the German shop.
First Aid
Where can I find my license key?
If you cannot retrieve the license key delivery mail coming from "ShareIt/DigitalRiver" from your email inbox:
Visit our ecommerce reseller webpage.
Adjust the web page language in the upper left, if necessary.
Click the button "My Account" and log into your account.
There you should find your license key information.
If you lost the login information as well, click the "Request Login/Password" link below the user/password input boxes.
What happens after the end of maintenance?
Your software installation will continue to work. However, your license key no longer works for security-critical security updates and we recommend to renew the maintenance. Returning customers get discount.
Is the SQL Server included?
PhraseExpress supports connections to a Microsoft SQL Server but the SQL Server itself is not included.
Microsoft offers a free SQL Server Express Edition which can be used with PhraseExpress.
Is the online shop safe?
Yes, buying from the online store is safe.
Our online shop is operated by one of the world's largest online shop operators, Digital River, which operates shops for Samsung, Microsoft, Lenovo and many more.
The key symbol in the address bar of your browser during the purchase procedure makes sure that your personal data will be securely encrypted during tramsmission: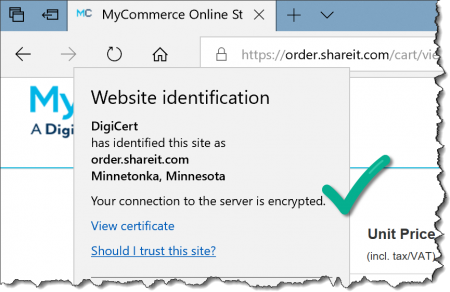 Do you offer volume discounts?
Yes, we offer attactive volume discounts if you purchase multiple licenses.
If you purchase online, simply enter the desired quantity and press "Update" to preview the voume discount.
We do not offer discount coupons for single/low quantity purchases.
What is included in the purchase?
Your purchase includes the right to use the software, as well as updates and upgrades, which we publish within the maintenance period you have chosen.
A special feature of our offer is that it also includes all new major versions with new functions.
Is maintenance included in the license?
Yes, a license always includes maintenance for the selected maintenance term.
This ensures that you can always use the latest software. You cannot purchase a license without maintenance.
However, if maintenance is expired for your license, you can renew maintenance at discount.
When does the maintenance term start?
The maintenance term starts with the month of license key delivery.
License keys are dynamically generated at the time of purchase. The end of maintenance is branded into the license key and can be read that out from the first set of 4-digits, e.g. "0421" means April, 2021.
Can a license be transferred?
Yes, you can release a license association from a user, a computer or a USB stick at any time to use it on another device (or for another user).
Which currencies do you accept?
The base currency is US$.
If you are ordering from outside the USA, you may want to stick with the base currency. The exchange rate of your payment provider is most probably better than the rate of our eCommerce service. We have no influence over the rate eCommerce using for exchanges.