First Aid
Make Webroot and PhraseExpress work together
Webroot Secure Anywhere can prevent PhraseExpress from detecting abbreviations in browsers like Chrome or Firefox and other applications, like Microsoft Word.
This will cause PhraseExpress not to expand autotext abbreviations or to show the phrase menu.
To configure Webroot SecureAnywhere for use with with PhraseExpress:
Open Secure Anywhere Setting, by right-clicking its tray icon and choosing "View Status".
Click the cog wheel icon near "Identity Protection".
Disable "the Identity Shield".
After following above steps, PhraseExpress shall detect your autotext input reliably.
Make Zemana Antilogger and PhraseExpress work together
Zemana Antilogger is an anti-keylogger application, that prevents malicious software from capturing keyboard input to sneak passwords or sensitive data that you may type into your browser or other applications.
Unfortunately, in its default configuration, its keystroke encryption prevents PhraseExpress from detecting entered autotext abbreviations. Unfortunately, this occurs without Zemana reporting any blocked application.
To configure Zemana Antilogger for use with with PhraseExpress:
Click on the Settings button in the Zemana main window.

Change to tab Security Settings.

Uncheck Enable keystroke encryption.
After following above steps, PhraseExpress shall detect your autotext input reliably.
Do I get unlimited free support?
Your license purchase covers development of the software and product maintenance as part of the warranty in case of a reproducible software error. Of course, any such bugfix is provided free-of-charge during the selected maintenance term.
The demo version allows you to try the software without obligation to check if it works as desired for your particular project and in your actual environment. We want your confidence first, not your money.
PhraseExpress is a powerful solution – It can be used for basic tasks but you can also create very complex macro automations in enterprise level IT environments. PhraseExpress is designed to work cross-platform over the internet, in the network, in the cloud, with SQL and Citrix/TerminalServer. It contains an advanced programming system.
You probably understand, that it would be impossible, to include such professional IT support in the license purchase. If we were to offer unlimited, individual consulting or installation support as one package with the software, we would have to increase the purchase price considerably. However, this would be unfair for those who do not need extra consulting.
That is, why we offer you an extended consulting service as a time-based paid service – as individually required.
When you book our consulting service, you directly reach the actual makers of PhraseExpress with a direct line to senior development, instead of outsourced call center agents, that read FAQ or a knowledge base articles for you.
I get license reminders with a registered installation
PhraseExpress is offered in various product editions. If you do not choose the largest Enterprise Edition and register your license key for a smaller edition, you can still use all the functions of the larger editions. This enables you to still evaluate features of a larger editions even after you have made a purchase decision.
You will then occasionally receive license notices when you use these functions which are not included in your license. You can find an feature comparison of the various editions in the shop.
To avoid license notices:
Purchase the corresponding larger edition if the functions it contains are of interest to you.
Stop using features that are not included in your license.
Disabled test of unlicensed functions in the "PhraseExpress Settings » Features".
Can I attach files to an email (file attachments)?
Yes, if you generate the email with the mail macro, you can directly configure a file to be attached to the email.
To attach a file to an email you are replying to, use the macro "paste file".
The TAB or ENTER key doesn't work
If the ENTER or TAB key is blocked on your computer, disable the PhraseExpress option "Route ENTER and TAB through PhraseExpress".
Dead keys on a Mac
If the keys U, I,O, J, K, L and M are not working on a Mac, you may accidentally have enabled keyboard mouse simulation in the macOS System Preferences » Acccessibility » Mouse & Trackpad » Enable Mouse keys.
Solution: Disable mouse keys.
Is PhraseExpress compatible with Windows XP/7
Microsoft itself discontiued Windows XP/7 long time ago and strongly recommends to upgrade to the current version.
We do not test PhraseExpress with Windows XP/7 anymore, thus can not make any statement about compatibility.
License reminders despite license
You may get license reminders in following cases:
PhraseExpress allows you to try out features of all product editions, even if you purchased a smaller edition. If using features, that are not included in your product edition (see comparison), occasional license reminders are shown. Please either upgrade to the product edition, that includes the feature or discontinue using those features. When such license reminder is shown, you can opt to disable features, that are not included in your license to avoid running into such reminders accidentally. This can also be configured in the program settings under Settings » Features.
The software is not yet registered with a license key.
You are using a later software version with expired maintenance. Please check the "About PhraseExpress" window to review the license status.
If using a SQL/PhraseExpress Server: The PhraseExpress client may not have received from the server, e.g. in case of a network connection issue. Connect the PhraseExpress client to the server to obtain a license.
PhraseExpress does not launch automatically with the computer
Make sure to enable the option to have PhraseExpress launched with the system: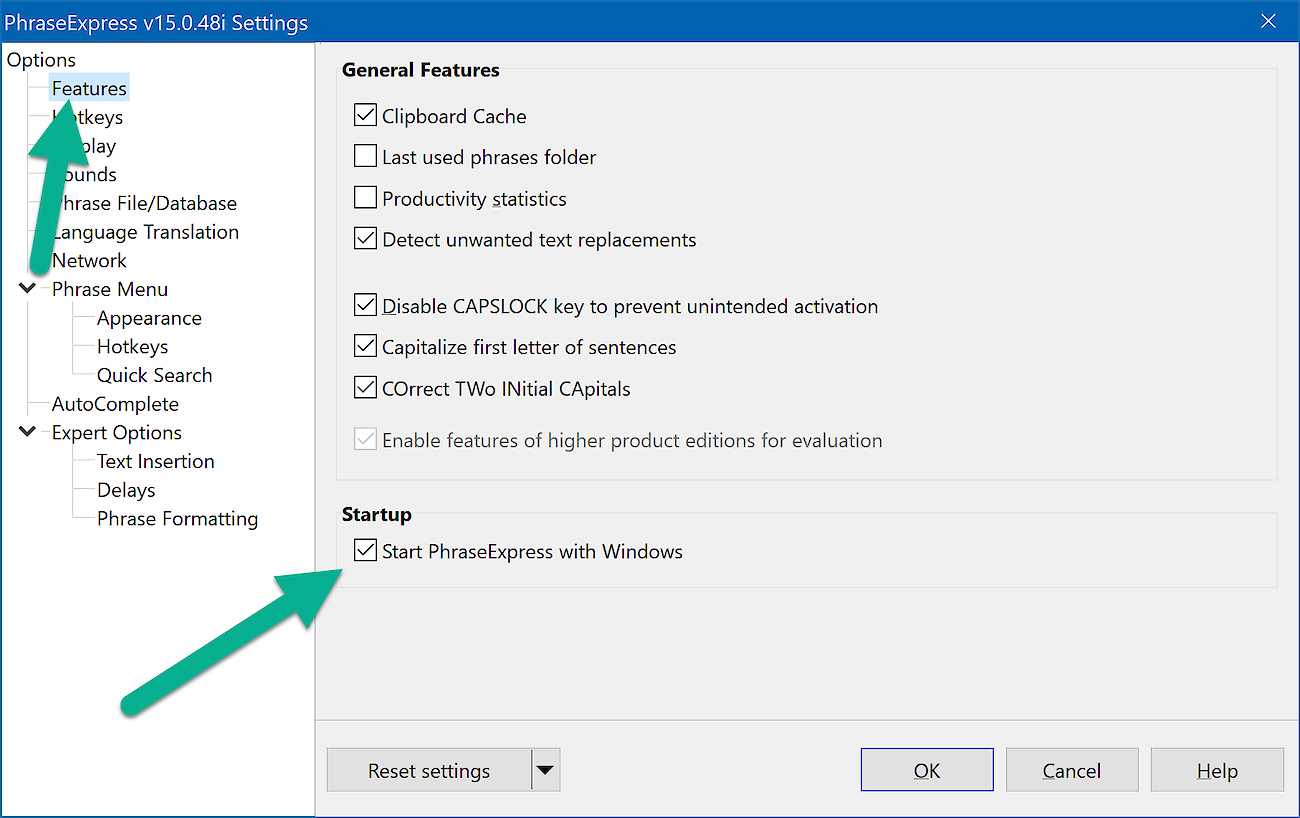 Toogle the setting off and back on to make sure that Windows apply the setting and press the OK button.
If PhraseExpress doesn't launch regardless of this option, it could be that a "security" program (such as an "Antivirus" or "AntiSpyware" software that is marketed to give you the feeling of security) may block PhraseExpress from launching as it may misinterprete it as a keylogger. Please check the setting of any such "security" software.
Check general tips to solve problems with starting applications under Windows 10 (Google search).
How to solve Excel error "Picture is too large and will be truncated"?
To resolve Microsoft Excel issuing the error message "Picture is too large and will be truncated" on clipboard operations, configure the PhraseExpress Clipboard Manager to "remove text formatting":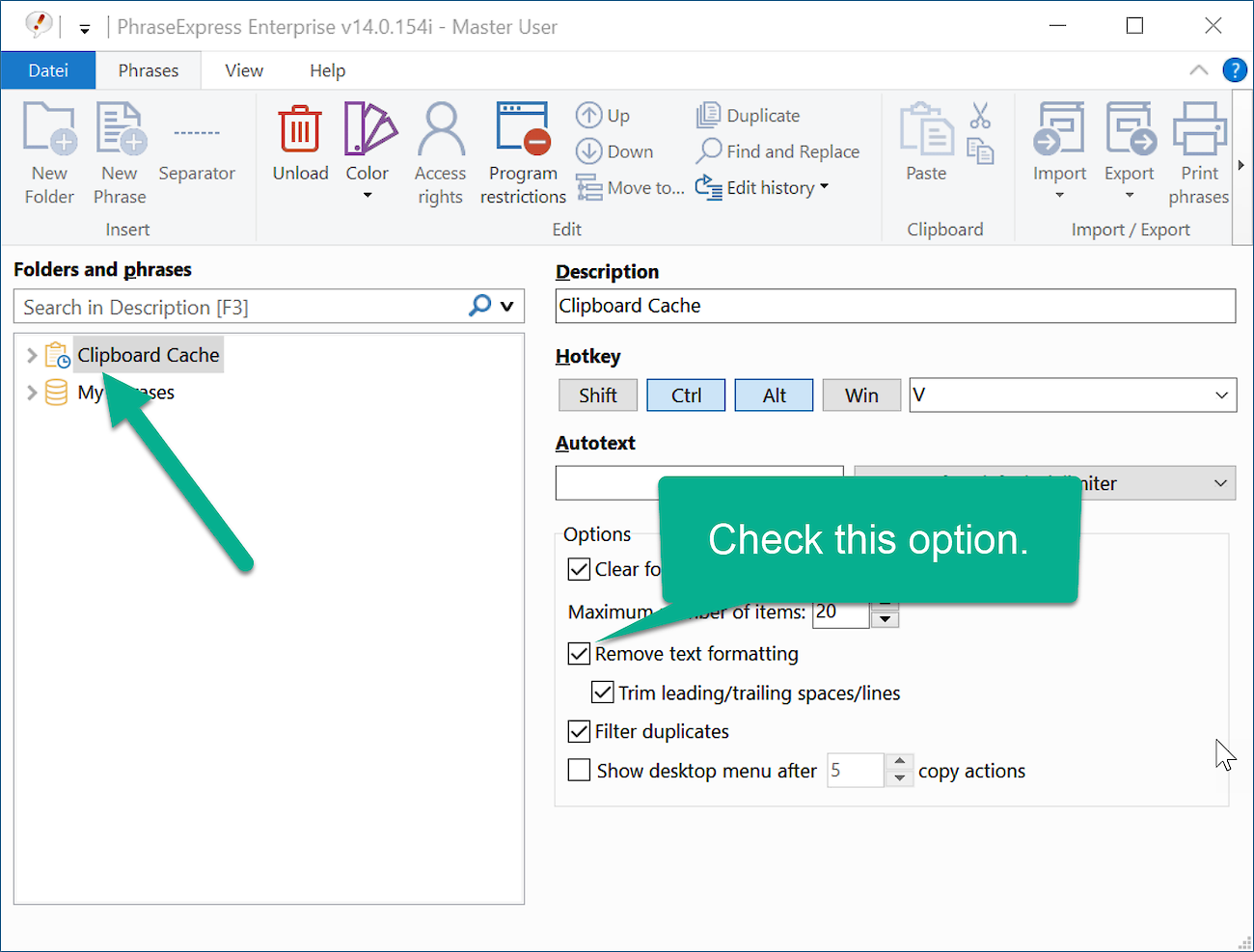 Where is the global Variable Manager?
The Variable Manager introduced in PhraseExpress v14 has been removed in PhraseExpress v15 to provide more functionality.
When the phrase file is loaded for the first time, PhraseExpress v15 converts your global variables into regular phrases, which are stored in a new phrase folder "Variables".
You can then drag these phrases into any phrase for use as before.
Benefits:
Previously, any user could modify or even delete the global variables without access rights restrictions. The earlier variables now stored as regular phrases can now be access restricted.
Variables can now also be restricted to certain programs.
The variables now stored as text blocks can be used with all other PhraseExpress functions (Search, Find and Replace, etc.)