First Aid
How to solve Excel error "Picture is too large and will be truncated"?
To resolve Microsoft Excel issuing the error message "Picture is too large and will be truncated" on clipboard operations, configure the PhraseExpress Clipboard Manager to "remove text formatting":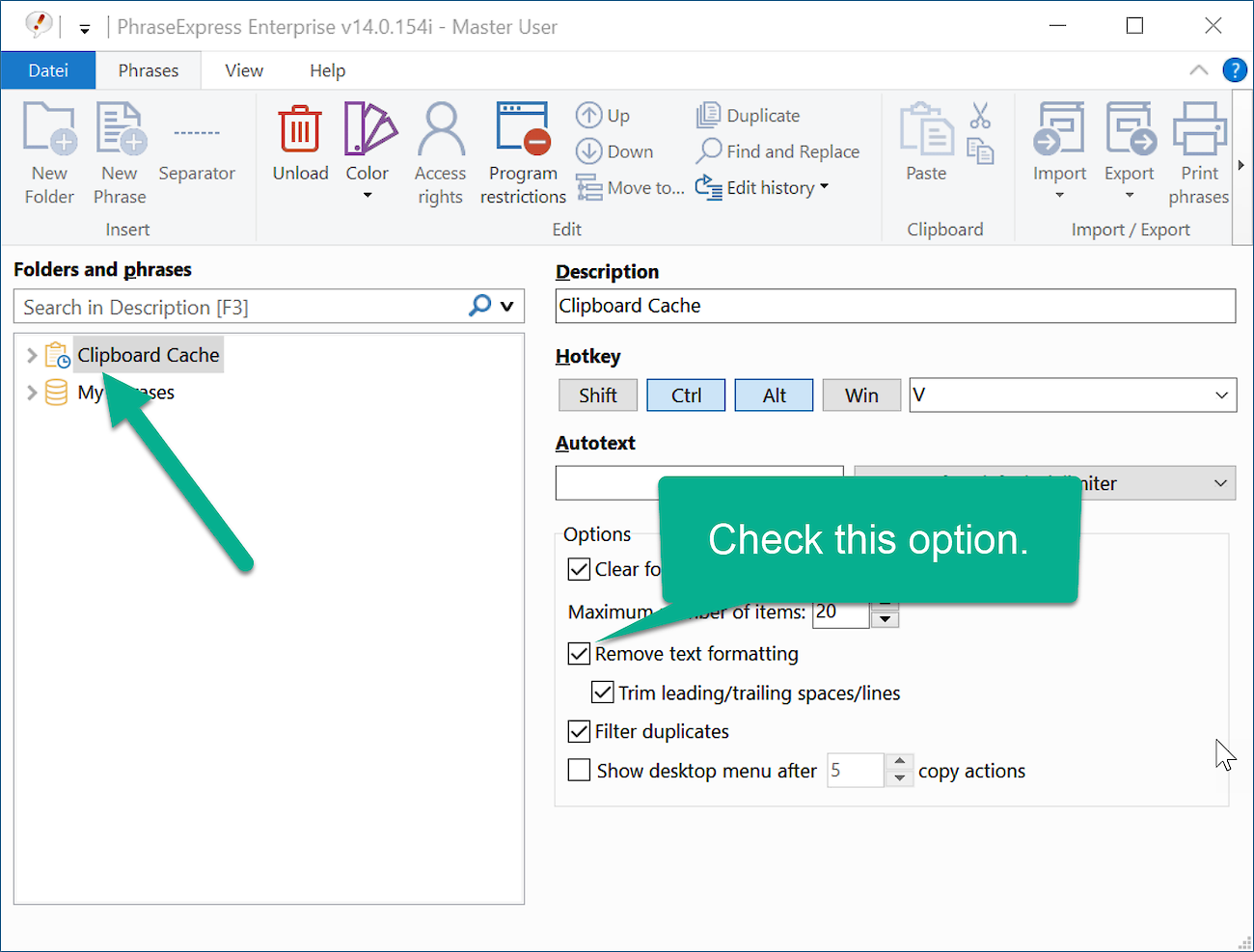 Do I get unlimited free support?
Your license purchase covers development of the software and product maintenance as part of the warranty in case of a reproducible software error. Of course, any such bugfix is provided free-of-charge during the selected maintenance term.
The demo version allows you to try the software without obligation to check if it works as desired for your particular project and in your actual environment. We want your confidence first, not your money.
PhraseExpress is a powerful solution – It can be used for basic tasks but you can also create very complex macro automations in enterprise level IT environments. PhraseExpress is designed to work cross-platform over the internet, in the network, in the cloud, with SQL and Citrix/TerminalServer. It contains an advanced programming system.
You probably understand, that it would be impossible, to include such professional IT support in the license purchase. If we were to offer unlimited, individual consulting or installation support as one package with the software, we would have to increase the purchase price considerably. However, this would be unfair for those who do not need extra consulting.
That is, why we offer you an extended consulting service as a time-based paid service – as individually required.
When you book our consulting service, you directly reach the actual makers of PhraseExpress with a direct line to senior development, instead of outsourced call center agents, that read FAQ or a knowledge base articles for you.
Does PhraseExpress run on M1 Mac hardware?
Yes, the latest PhraseExpress version runs natively on M1 hardware.
Solution for error "pexkey.dll too old"
If you receive the error "pexkey.dll too old" on program launch, a software update or a re-installation over an existing PhraseExpress installation seem to have gone wrong.
Solution:
Uninstall PhraseExpress (No worries. Phrases won't be deleted and you can keep your settings).
Reboot computer. Don't miss this step.
Reinstall PhraseExpress
Where is the global Variable Manager?
The Variable Manager introduced in PhraseExpress v14 has been removed in PhraseExpress v15 to provide more functionality.
When the phrase file is loaded for the first time, PhraseExpress v15 converts your global variables into regular phrases, which are stored in a new phrase folder "Variables".
You can then drag these phrases into any phrase for use as before.
Benefits:
Previously, any user could modify or even delete the global variables without access rights restrictions. The earlier variables now stored as regular phrases can now be access restricted.
Variables can now also be restricted to certain programs.
The variables now stored as text blocks can be used with all other PhraseExpress functions (Search, Find and Replace, etc.)
How to disable "suppressed autotext" notifications?
In PhraseExpress v15, autotext replacements are suppressed if you press a specific hotkey directly after typing an autotext.
For example, the autotext "FBI" wouldn't be expanded to "Federal Bureau of Investigation" if you press the autotext suppression hotkey directly after entering the autotext. This gives you a case-by-case choice to have the autotext being executed as needed.
The (customizable) default hotkey is pressing 2x SHIFT. Unfortunately, it seems to be easily entered by accident.
Solution: Open PhraseExpress settings, switch to section "hotkeys" and select another hotkey or delete the hotkey association if you don't need this feature: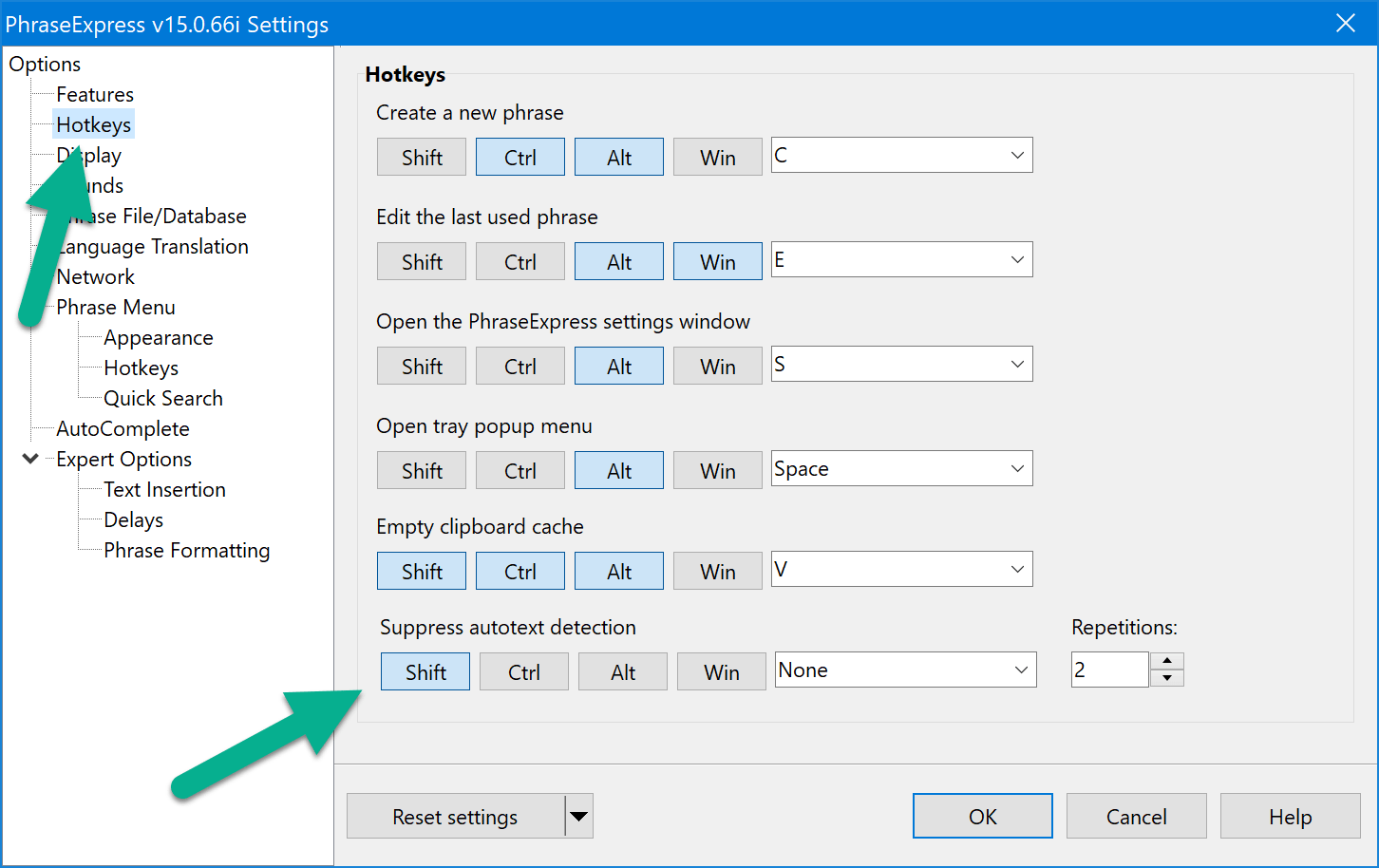 Program window appears on every Windows startup
PhraseExpress doesn't launch with the window open by default. It only shows the program window, if you run the program again while it is already running in the background. If PhraseExpress shows up on Windows startup, you seem to have multiple PhraseExpress entries in your startup configuration.
Solution:
Try cleanup the Windows startup section by unchecking and re-checking the autostart option in PhraseExpress settings:
If this doesn't solve the issue, review your autostart entries with the original Microsoft tool "Sysinternal Autoruns" and delete any abaondoned or duplicate PhraseExpress entry. This tools generally gives you great insight what is launched on your computer.
Alternatively, use the Windows File Explorer to manually clean up the StartUp folders:
Remove all(!) PhraseExpress entries from both folders "%appdata%\Microsoft\Windows\Start Menu\Programs\Startup\" and "%programdata%\Microsoft\Windows\Start Menu\Programs\StartUp\"
Open PhraseExpress Preferences " Features and uncheck "Start PhraseExpress automatically with the system" and check it it again (if desired).