TextExpander Alternative
PhraseExpress is our best TextExpander alternative for macOS, Windows and iOS.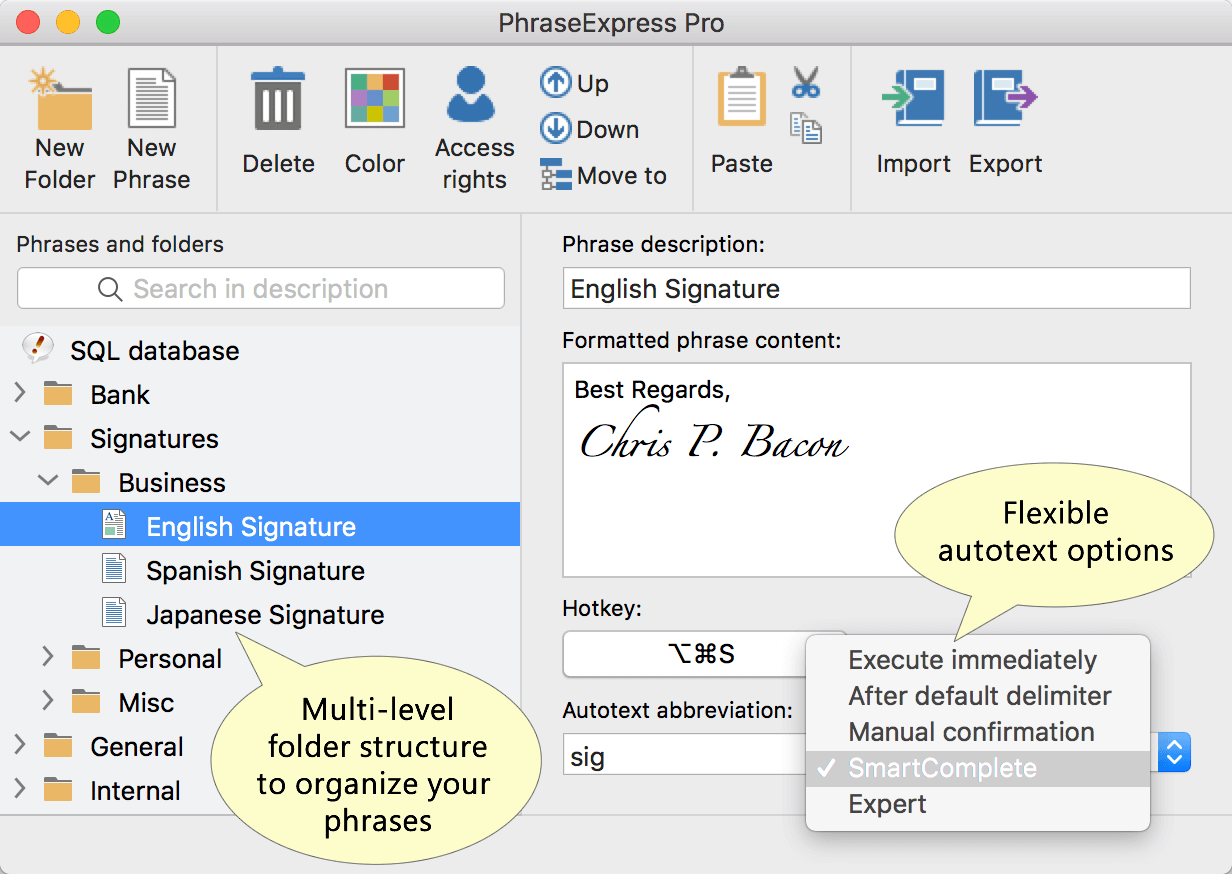 But don't take our word – Check out, what 9to5mac has to say in their review "TextExpander vs PhraseExpress".
Multi-level snippet organization
More than just flat snippet groups:
Snippets can be organized in a customizable multi-level folder hierarchy for more flexibility.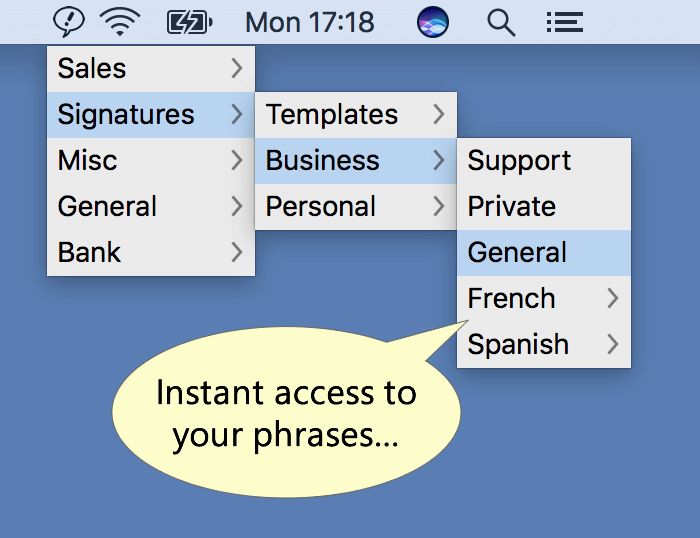 Powerful Autotext Options
No more "conflicting autotext"!
PhraseExpress allows you to assign the same shortcut for multiple snippets.
Instead of "conflicting autotext" alerts, PhraseExpress offers you all matching snippets in a handy popup menu: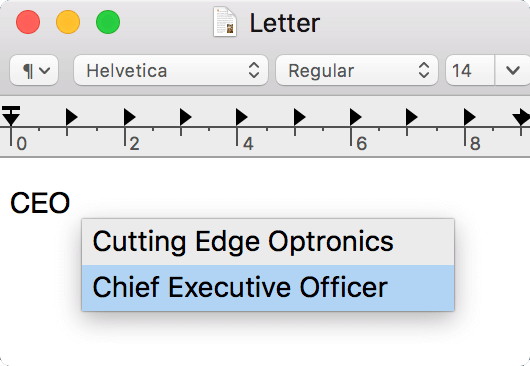 No more Autotext memorization
Tired of ;xdly and ;rjcd?
Instead of typing cryptic abbreviations, just start type the beginning of the desired phrase.
A smart menu narrows down matching items as you type.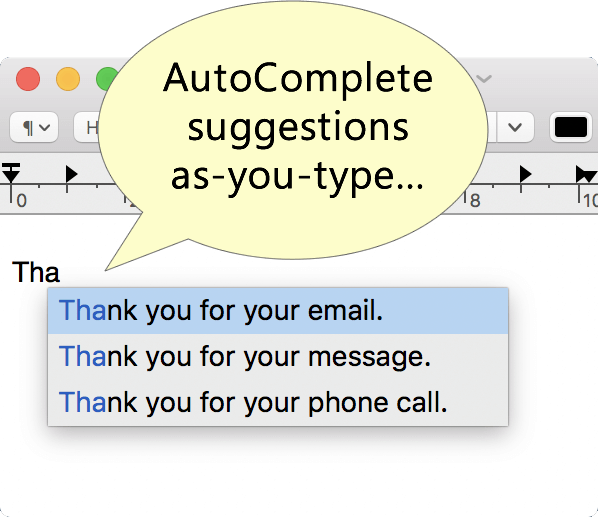 Advanced Macro Language
A whole new level - Literally!
Macro functions add dynamic contents to static phrases.
Snippets can adapt to the recipient's gender, contents can be added depending on user input, time/date, calculations, etc.
PhraseExpress allows you to nest dozens of macros to create powerful tasks.
Multi-Platform Text Expander
Available for Mac, Windows and iOS
All PhraseExpress versions have been created with native development tools of each platform,
allowing for snappy apps which utilize the best features of each OS.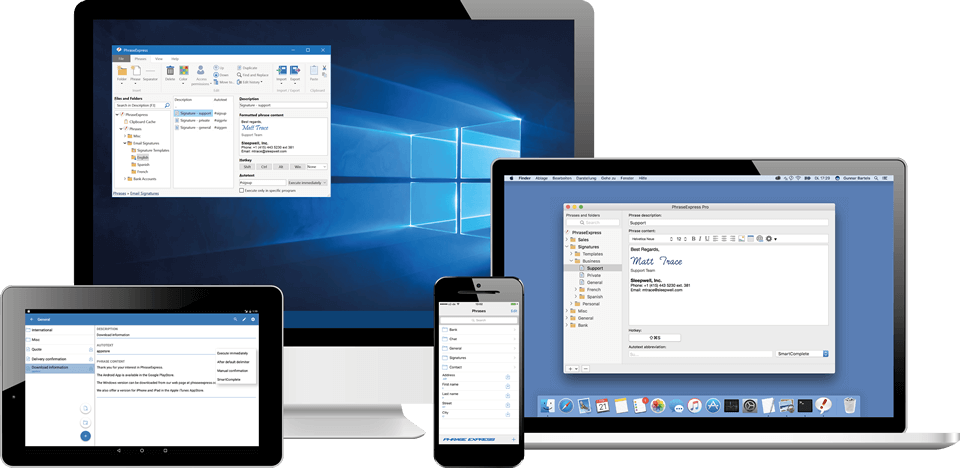 Fill-ins on steroid
Customize boilerplate templates with additional input: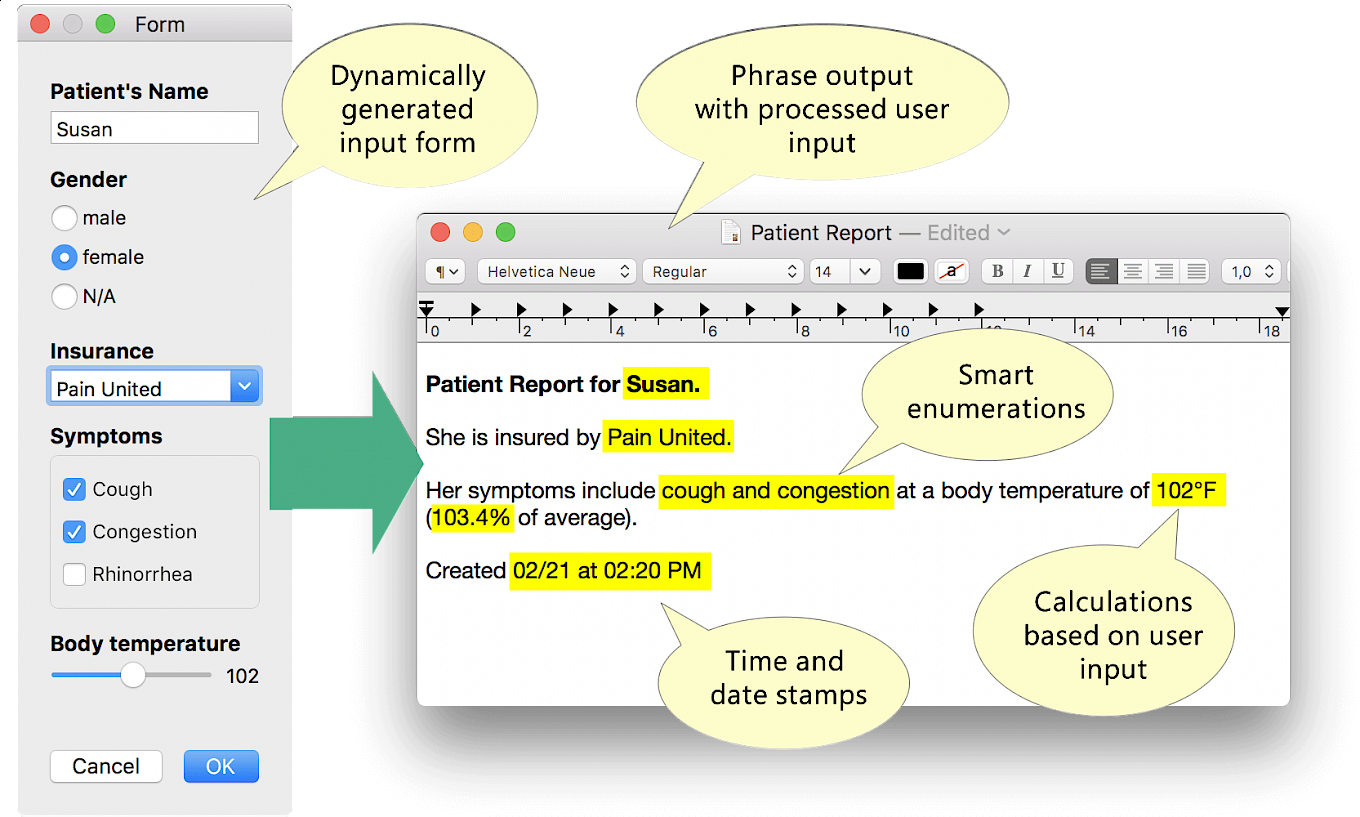 PhraseExpress does so much more than just inserting user input into a snippet in above example:
The snippet adapts to the gender ("he/she", "her/his") entered in the form.
Checkmarked items are enumerated including conjunction "and".
Calculations have been made based on the user input.
The form input can be stored and re-used for other subsequent snippets.
Why choose PhraseExpress:
No subscription - No need to register, login and logout to any account.
No recurring charges - You own a life-time license with a single purchase. Period.
No online dependency - PhraseExpress does not depend on a central phrase server.
No forced use of cloud services - Your snippets are stored on your computer.
Flexibility - Autotext settings can be configured separately for each individual phrase.
PhraseExpress can import TextExpander snippets in a snap - Give it a try!
'TextExpander' is a trade mark of SmileOnMyMac, LLC and is not affiliated with Bartels Media Gmbh and it has a different feature set than PhraseExpress.